Chinmayi K Sripada is an award winning Indian playback singer singing predominantly in languages down south. She is a classical musician, Odissi dancer, a sparkling RJ, dubbing artiste and of course a passionate writer. She makes her voice heard, quite literally on her blog. She made her singing debut in A.R. Rahman's Kannathil Muthamittal and since then has sung songs mostly in Tamil films.
Updated: Chinmayi is Co-hosting the 'Chote Ustad' show on Star Plus alongwith Omi Vaidya of 3 Idiots fame. (July 2010)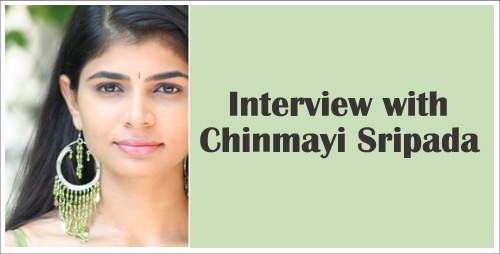 Q: When and why did you start blogging? Was it out of curiosity or something else?
A: Because Kiruba Shankar of kiruba.com asked me to do so and I thought why not? I probably wanted to all the while and needed someone to tell me. He asked me to explore that area and happened to mention that it will be a great platform to interact with those who would want to know about me. Sometimes its also cathartic.
Q: What topics do you generally blog about?
A: There is nothing specific as such. I need to be moved to write about something. Thats all.

Q: Do you ever get stuck when writing an entry?  What do you do then?
A: Not really, because I post an entry only when I am triggered to write. In which case there is no writer's block. Its not as if I have to blog. I blog only if I want to.
Q: Which tools/plugins do you use to efficiently manage your blog? Any widgets or tips you would like to share with our readers.
A: I don't use any. I do blog regularly but not into widgets.

Q: What promotional techniques work best for you and why?
A: I don't think I have indulged in any promotional techniques for my blog. My interviews in other media has got the blog a lot more eyeballs than usual. I have not actively publicized it.

Q: Do you earn revenue through your blog? How does one go about it?
A: No.
Q: How important is it for the blogger to interact with their readers? Do you respond to all the comments that you receive?
A: Yes. Almost always (respond to comments). What works for me need not work for someone else. Blogging, I believe is someone's thought print on the web and its upto each one to go about doing what they are comfortable in and not follow the dictates of something/someone else or popularity/lack of it of others either. A blogger probably needs to know why he wants to indulge in it. Do it as long as you want to. If you want to be regular do so. Otherwise its OK. I don't think there should be any rules or it should be not be a task to do so. The first several days it might feel like there is a lot to say. And after a point the well might run dry. So what? Its just a blog after all. There are greater/other things to achieve and lot more that can be done. If you don't feel like it, nothing to fret or feel guilty about.

Q: How, in general, would you rate the quality of Indian blogs? Share your favorite five blogs.
A: Kiruba.com, Sudhishkamath.com. I think Indians have a great command over the language and now with the vernacular blogs coming up, I would say the arena is great. But then I am a nobody to rate the quality of Blogs or such. I also usually do not blog hop. There have been days together that I don't do anything more than checking mail and getting my company work done.



Q: What do you find to be the most gratifying aspect of blogging?
A: To me its cathartic. It makes me look at my thoughts, once I have published a post, I am able to step aside and look at my thoughts and in a way to gauge what I am made of in a detached manner. There is also a certain responsibility because as a person who is more recognized on the road, I need to watch what I say. I have always wanted to write and by itself blogging gratifies that.
Q: What is your advice to someone who wants to start a blog?
A: No advice. Maybe just a suggestion. Someone should blog because he must be personally driven by it and not because it works for someone else.

Q: Chinmayi, 'Kannathil Muthamittal' took the industry by storm. Can you tell us your experiences while rendering this song?

A: Could you be specific? Rendering the song where, in the studio or live or in an interview? And as for the experiences while recording the song, it was my first one and was a dream come true since I always wanted a break from Rahman sir. Didn't think that this song would be a break though. The session was simple. Why I say that the session was simple because Mani Ratnam sir, Rahman sir and Vairamuthu sir can easily make anyone dumbstruck, But the atmosphere was easy and  I met some of the best people in the world that day and they made sure that I was not struck dumb or made me nervous. All I can remember was the freshness and ease of that situation. For a beginner it is a huge blessing.



Q: You have a website, two additional blogs (My Audio, My Pictures) and a Translation Services Company ! Do you find it difficult  to manage all this considering your busy schedule?
A: No. My Audio and My pictures are no longer live for several reasons.
Q: You are also a Radio Presenter on Aahaa FM 91.9 for a show which deals with social issues. Do you think you were able to make a difference?
A: Yes I do.
Q: You won 'The Ritz award for amazing woman' for the year 2008! How was the feeling ?
A: Partly embarrassing. Partly nice. But was glad that the jury and the magazine thought me worthy of it. Makes me want to work harder and do more.

Q: Airtel Super Singer enhanced your presence in the Tamil film industry. Can you tell our readers, why did you opt out of the show?
A: I do not know whether it enhanced my presence in the Industry. The yardstick in the industry is different and is not dependant or affected by Super Singer. Of course It was a surprise to a lot of people that I could talk shop.  But, yes it did make me a household name amongst the viewers. And I opted out due to personal reasons.
Thanks a lot Chinmayi for the wonderful interview. We wish you the best of both worlds. You can visit her