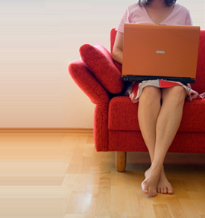 We all know that one of the ways blogging is being used is as a medium for people to express themselves, pour their emotions and talk about issues which bother them and get the opinions of complete strangers on those issues. It brings us to the fundamental question. How personal are personal blogs? Isn't that a misnomer?
We mean when everyone in the world can read your blog, where exactly is the personal element? It is all right if people talk about their grievances against the government or various issues in the country but there are blogs where people talk about extremely personal things like their life, their crushes, their love failures, their grievances against their spouses etc. and they prefer to blog because blogs help you do all this while hiding behind the anonymous tag. You can create an account on blogger or wordpress and call yourself something like "Lost in Love" or "Lonely Soul" and pour out your feelings without worrying about someone finding out who you really are.
So what makes people do it? Write about personal things and be read by millions of strangers across the world?
The main reason is that many a times we relate to complete strangers rather than people whom we are close to or those who we have known for long because sometimes complete strangers have the same problems as we do and can offer better solutions and can empathize with us than people are close to us but don't know what we are going through. That seems to be one of the main reasons why people choose blogs as a medium to express themselves. Also, writing about anything can help you vent all your frustrations and think clearly and lucidly once all that hurt is out of your system. So what better way to write about it and let people know your problems get their opinions and be anonymous at the same time than creating a blog.
Sharing your life with millions of others across the globe might sound ludicrous but the key thing here is the anonymity factor. There are a lot of really popular blogs (written by anonymous people) and they are hugely popular because it has many people with similar problems contributing to it and also getting advice from others.
There have been occasions when after a few days someone has written an entry on his blog, he wants to remove it. The bloggers do remove, but do not know that it has already been indexed by hundreds of search engines and sites that maintain archives of the web. It's difficult to get out of them.
So, though personal blogs might not really be personal, they have created something close to a mini revolution now and are here to stay whether we like it or not.
What do you think? Does it make sense to write about all your personal things and thoughts when the whole world is reading?