Whatay contest! My Family Memories, in association with imlee.com, contest was indeed fun, and we are sure it was the same for most of you all too. It was a joy ride to go through their stories. From hilarious tales of siblings, to cherishing the old days, together we all celebrated the bond that we share with our family. Without further ado, let us announce the winners! Rituparna Ghosh was our esteemed judge, and these are the entries that she has picked as winners. *Drum Rolls*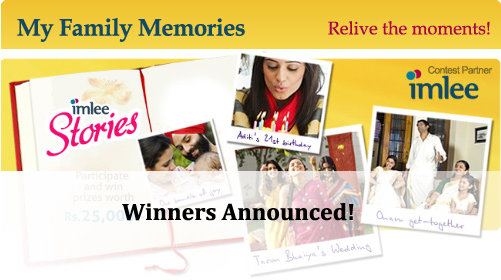 First prize goes to none other than, Suranga Date of Kaimhanta! 🙂 And she wins a Flipkart gift voucher worth Rs. 10,000!
This is what our judge has to say:
"Beautiful! We assume a lot about the women in our families, but really it is the women of this country who break those shackles of pre-conceived ideas! Women in Indian families define the rules of the house, sometimes they are more stringent than the ones laid down by the men in the family. This is the story of one grandmother who travels back into the century, to recall her own grandmother and the lessons she left behind."
The second prize goes to Abha of Aionofiris! Abha wins a Flipkart gift voucher worth Rs. 5,000!
This is what the judge had to say:
"Girls believe their dads are all superheroes rolled into one! At the same time watching a parent suffer, and be weak is one of the most difficult moments to cope with. A remarkably difficult memory is retold in a touching way."
The third prize is won by Farida Rizwan of Chapters From My Life! She wins a Flipkart gift voucher worth Rs. 3,000!
This is what Rituparna said about this entry:
"Childhood is not always about happy memories…sometimes there are the bitter sweet moments that shape the person you grow up to be."
That's not all! We have seven more winners who have won Flipkart gift vouchers worth Rs. 1000 each! Here are they:
Sunita Kurup of Sukupedia
Kofykat of My Chocolet Handbag
Cynthia Rodrigues Manchekar of Cynthology
Dream Peddler of Dream Peddler
The Rebel of Metherebel
Daffodils of Lonely Wanderers
Suma of On the Prompt
Congratulations to all the winners! Thank you to Rituparna for patiently judging the contest, and reading so many entries. A huge Thank You to all the participants. We are glad that all of you participated in this contest. Those who have not won anything, don't be disappointed; there are many great things coming at your Adda, so keep watching this space. Winners will get an email from us regarding the prizes.
Till next time! 🙂
About Rituparna: She is often mistaken for her namesake, a famous Bengali film maker and is often left to clear the cloud about her name and profession! Rituparna is a television professional, dapples in non fiction programming through the day, rushes home to hear her son gurgle in delight, puts him to sleep and curls up her toes to read. Rituparna is addicted to Twitter, will do anything to catch the Friday release, is a blogger who has enough excuses to not write, a foodie who is battling her weight, dreams of writing her book and loves drafting stories in her head.  She blogs @ The Little Things That Matter…