What are Gaizabonts? What is Meta-Curiosity? We wanted to find the answers for this and one of the learned one's from our Blogosphere gave us the directions to the man who has the answers for this. Our journey spanned through the coastal regions of Konkan, Sahyadris, and finally we found him at a place called Malvan. Presenting to you a conversation with one of the most active bloggers and thinkers, Atul Sabnis. 🙂 He answers the above questions and much more in this must read interview. Time to oil our brains and go into a deep thinking mode.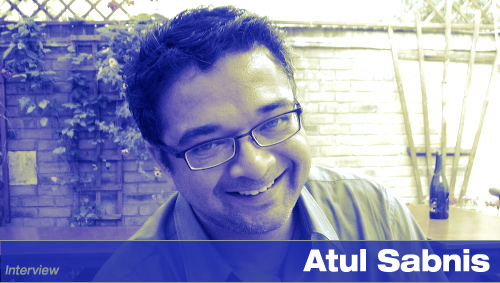 Q: When and why did you start blogging?
29th December 2003, was my first post, on Blogger. I had been reading a couple of blogs and just jumped into it without any knowledge or expectations (and without much thought either – if you read that post). There was a gap after the first couple of posts, but later, I connected with a few folks, started receiving comments; I took a deep dive. In September 2006, I moved to WordPress and have been there, since.
Q: What topics do you generally blog about?
Mostly, experiences. It is a personal blog, so, most of the posts are about my experiences and such. When I started, I intended it to be a travel blog. Over time, however, it has changed complexion and I have written about various things. The densest (and the default) category is "Thoughts" – followed by "Life" – so that will give you an idea. Once in a while there is something about music, art, and writing.
Q: Do you ever get stuck when writing an entry? What do you do then?
Often. Ironically, I have blogged about being stuck. Two things happen when I get stuck. I usually ditch the post; I tell it lovingly that its time hasn't come and let it go. I delete it. Sometimes, however, I force myself to finish a post. This usually happens if I haven't posted for a long time. The final posts, in this case, are usually not very good, and when I see it after a few hours, I don't like it. I have often deleted published posts. Unfortunately, I have a few email subscribers, so they get the 'bad post' in the mail – and ask me why I deleted it.
I think it is always better to ditch posts when you are stuck. I never keep a draft. I can never pick up on the same emotion after time has passed. I know I will end up doing injustice to the original, intended thought.
Q: Tell us something about your company eVeltio, that you co-founded with Anupama a year ago. With education consultancy as the objective of this company, what changes do you want your company to bring about? How has the company been progressing till now? What is the purpose of eVeltio TEN?
Veltiosi is Greek, for improvement; to make better. eVeltio consults to improve processes, technology and workflow for delivering a better educational and learning experience. This transitionary phase in Indian education is probably the best time to make those critical changes in direction, if we are to address the oft-lamented problem of demographic dividend. My company works with educational publishers, institutes and other organisations interested in making educational delivery a better experience.
eVeltio TEN – Teacher Education Network – is an initiative in this direction: an online platform for teachers – the key stakeholders in the education ecosystem – to make sense of their changing world. It is a free portal for teachers, to engage in informal learning and knowledge exchange on technology, education policy, special education and other subjects. So, a teacher sitting in Lucknow, could reuse a lesson plan, on optics, for example, created by a teacher in Mysore or understand how tablet computers are being used in a school in the London district. It is, in short, a peer-to-peer-learning network.
Q: You have spent more than 10 years of your career in LearningMate Solutions. How was the experience, and what things did you learn there, that are still useful to you? Share some memorable incidents with us.
To say that these ten years (all of my 30s) was the greatest learning experience for me, would be an understatement. From founding the company with my partners and starting off with just eight of us, to being a part of the journey that saw it grow to four locations worldwide and over 300 team members, you can imagine, is my most cherished decade. I was fortunate to have worked with the brightest minds in the industry, to have been in many roles in the company, including setting up the UK office, so the exposure has also been vast and varied. I will quite easily say, that most of what I know of my profession was due to this diverse and wide-ranging experience.
Most of all, the experience of building a culture that allows you to take risks, define and create new things, fail, get back on your feet and run better and faster, with new experience, is what I have savoured the most.
It is very difficult to single out a few moments from this decade as the most memorable one. It would have to be standing in our first, half-constructed, new office, watching our dreams grow bigger. But, generally, my interactions with the team, the relationships, the strong support and continuous learning will remain with me forever.
Q: In a post of 2005 – No News is Good News – you mentioned about the declining standards of news reporting. According to you, what are the things that trigger this sensationalism? Despite majority of the thinking audience voicing their appalled situation over such news, what could be the reason for the news industry not acting upon it?
To my mind, unaligned objectives of business and journalism cause this. At one end, the business seeks revenue and circulation (or TRP); at the other journalism seeks to publish news (in the true sense of that word). Business objectives seem to be gaining the upper hand in this confrontation. The optimal meeting point for these two is a big blur (though it need not be). So, we experience the gray-ness of news reporting that's full of sensationalism, trash reporting and, recently, unnecessary outrage.
Q: Your post of 2007 on what blogging means was a delightful read. As a blogger who has blogged on various topics since 2003, how do you think the blogosphere has evolved in these years?
Since I started, blogs have evolved exponentially. They have become a business and an industry, almost. The quality of blogging is much better than early days, when it was a public, personal diary of sorts. There is focus and specialisation. The templates are neat and well-designed. Tools available to help promote and manage your blog have also increased and improved in the last few years.
Having said that, we have lost many a blogger to Twitter and other micro-blogging/sharing platforms. Attention spans are dwindling and TL;DR is becoming more common. This is not to say that quality of content has deteriorated, it's just that the choice of platform and the format of content has also been evolving. When I think about Twitter and these new platforms, I am reminded of Pascal's quote (on the TL;DR entry in Wikipedia) – "I have made this letter longer than usual, because I lack the time to make it short." I love the irony.
Q: You also have a Hindi and Marathi blog, where you write poetry and use it to brush up your language skills. Do you also regularly follow regional language blogs? In your opinion, how well do regional languages blogs fair currently in the blogosphere?
There is a small number of regional language blogs I follow. For the same reason. I'd like to improve my expression in these two languages. An entire treasure of literature and knowledge is inaccessible to me; I regret not being proficient in my mother-tongue. I often run my Marathi posts by my mother and try and see how I can write better here or choose a different word there. With my Hindi posts, it is just a way of recollecting all that I learnt from school.
It's obvious (because of the size of the audience) that regional language blogs do not fare as well (in terms of views) as blogs in English. However, they do have a very specific and passionate set of followers. There is often high quality of content and expression. It is a wonderful experience to follow their conversations (though I take longer than usual to read through).
Q: History — mainly Maratha — also seem to interest you, as we get to know from your History Blog. Having traveled to many historical places and analyzing them, do you feel there are a few good things that have been left behind in this transition? Which part of Maratha history fascinates you the most? According to you, is our history aptly treasured or some more steps need to be undertaken to preserve it?
This blog was started because of an innocent question my friend asked me, while we were driving through Konkan. I answered the question, but I was not entirely satisfied with the answer. My friend was probably looking for a context; I answered with a fact. His Story Telling is an ongoing attempt to create context for history (my work is far from done). I often bemoan the manner in which history is taught in our schools – the reason – most of us hate that subject. Access to facts is easy, especially in the times we live in. It is the critical thinking, analysis and a research oriented attitude that is missing from our curriculum. Also, unfortunately, various political groups have usurped history and have re-contextualised, or even, distorted the presentation.
Maratha history, specifically the Maratha Confederacy, intrigues me because of the inherent "what if" question about it. My fascination is more academic, inquisitive and contextual rather than that of fanatical regional pride. Also, in the way that people read Sun-Tzu, there is much to glean on strategy, class-divide, trust-issues, management, and administration – and, it's closer to home. I am glad that this blog has come to the notice of folks who teach strategy, and other historians and academicians who are interested in the context of history.
It is, I believe, common knowledge that we have severely neglected our history and our heritage. While the government and the ASI, for example, can do much more to protect and preserve this treasure, the onus really is on us. If we do not respect all that we have, no protection will be enough. Last year, I was at the Ajanta Caves and was informed that in a couple of years they are going to close access to the caves (you may want to go there sooner than you planned!). An alternative version is being built at the base, for the 'general public.'
This may be the shape of things to come, if we are unwilling to respect and care for our historical heritage.
Q: The advantage of being online is to overcome the constraints of time and geography rather than posting news, videos, guilt updates, and disturbing photos – one of your recent posts about Facebook said this where the aim was to convey that we are missing out to know each other online, which was the initial purpose of Facebook. Another similar post expressed how Facebook had more original content earlier. In three years' time, what role do you think social media will play in our lives? Will its dynamics change in terms of how we use it?
This was a 'response' when, one day, I saw my Facebook wall full of irrelevant photos, videos and links. This is also, one of the posts that I deleted even after I had received some very interesting and long comments (I reposted the comments). I think people use (and abuse) a social network in a way that they wish. You have to make your own decisions and filters of what you want to see. That day it seemed so much of waste for me going through my wall. It was, as if, I did not know these people.
I really have no idea what online social networking will become in the years to come. I think it is almost impossible for anyone to answer this question. We can, at best guess, based on data that is available to us today. But, this data quickly changes, something new happens and we are on a constant "course correction" about the impact that these platforms and the technology will have on our lives. The platforms and tools may change, but we will always find some way of being connected.
People will always find a way to use all things available to them in a way that makes sense to them. Even today, no two people use social networks in the same way. Also, there is the psychological aspect to using social networks. I'll point you to an excellent post by Mahendra Palsule: The Conflict of Online & Offline Identities.
Q: You also have keen interest in Movies and Music. Indian cinema has completed 100 years of its being and it was surely a long journey that it has traveled. As a viewer, which era of films has served the audience with some constructive films. Personally, what genre of films do you like? Tell us about a recent film that you liked and why?
Because I am partial to everything in the 70s, I would say – that was the best time. 🙂 But that's not true, I think evolution happens gradually – and no one era or period can claim to be the one that caused maximum effect and impact. Each era and generation has progressively contributed to making art better, and to good effect.
As a favourite genre, I would say Drama, but I am usually not stuck to a particular genre, I watch almost any kind of movies (except horror and mushy romance), but I love movies that explore the human nature in their own ways. I find that this is usually done well in War Dramas, Comedy, Adventure and the Fantasy genre.
Very recently, I have been hooked on to Marathi movies, which I believe, have come of age. I recently saw Shala (2011) – and I loved it. The sheer simplicity of the presentation, the authenticity of the emotions and the acting had me giving it a very high star rating.
Q: The happiest people are those who have a relationship; not those who are making an effort to have one – October 2004. Looking at the current generation of fragile and insecure relationships, not only with others, but with oneself too, what are the things do you feel nurture these thoughts? What is required to avoid this?
I am no expert on relationships; that post was just an observation. 🙂 I feel there are too many expectations, and too little flexibility. It's something that sounds like "take-me-as-I-am" but "I-will-not-take-you-as-you-are." And since "everyone" is doing this, it is a stand-off. We are asking too much from others and giving very little (or nothing) of ourselves. We just have to be.
Paul Simon said it well, when he sang the 59th Street Bridge Song, asking us to slow down.
Q: You have 17 blogs in all! It must be extremely tough to maintain so many blogs. Right from Hindi to French and from History to Photography, everything seems to have been covered. However, you don't write on most blogs regularly, or don't write at all. Why did you feel the need to have so many blogs? Are there any other interests too, that have not taken the shape of a blog as yet? 🙂 Do share them with us.
I was hoping you'd not notice! 🙂
Yes, most of the blogs are defunct now – but they started with very lofty intentions. There was a time in mid-2007 when I considered myself a blogging-addict – I think it was during this time that most of these blogs were created. I was aiming for some kind of specialisation! 🙂 And I obviously overestimated my free time!
In retrospect, I think there was no need for me to create as many blogs. 4 – 5 would be enough (which is the number that I update at a decent frequency). Yet, I hope to revive the others at a certain point – that is the reason they all are still around.
Between these blogs, most of my interests have been covered. I have just started posting a few movies, but I promise, I will not create a new blog for that! 🙂
Q: Do you promote your blog? What promotional techniques work best for you and why?
Apart from the WordPress feature of auto-cross-posting to Facebook and Twitter, I don't do anything for promotion.
Q: How important is it for the blogger to interact with their readers? Do you respond to all the comments that you receive?
Very important. That is if you want them to keep coming back. But more than the readership, I think it is respectful to respond to those who leave a comment. If someone has taken the effort to read your post and say something about it, I think it is very disrespectful for you to ignore that comment. Plain and simple. One advantage I have, is that I do not get many comments, so, that works in my favour to respond properly to every comment.
I did toy with the idea once, of not responding to one-word-compliment-comments. But, I did not follow-up on that idea. Even if someone replies with a "Brilliant post" or a "Wow", I will always, at least, thank them for that. In a time where it is very easy to just click on a "like button", a comment, even if it is a single word, is a very specific, personal and a tangible response. By not responding, you are killing a potential conversation – the heart of any blog.
Even if I am late, I always respond to a comment (except spam and trolls). Pick any of my posts, see the number of comments it has, divide that number by two – that is the number of people who have left a comment on my post.
Q: What do you find to be the most gratifying aspect of blogging?
One: The archive. That is the most gratifying thing about blogging. As I have said before, my posts are usually about me or some abstraction of an event. I suspect that I read my blog more than anyone else. I love revisiting my old posts – and watching the transformation. (If only my visits contributed to my blog stats!). Two: The conversation. It does not happen as often as I would like it to, but some posts become the residence of great conversations. Often, some of these conversations find a way out of the blog, for a coffee, with friends. That, is priceless. Three: The discovery. Some of my best friends today, are the ones I discovered because of this blog. Where some of the posts are too abstract for some people, these friends understand just what I am saying. It is a fulfilling experience.
Q: How, in general, would you rate the quality of Indian blogs? Share your favourite five blogs.
As I said earlier, most 'personal' bloggers have made the transition to micro-blogging and other SNs. So the number of blogs I do read in this space are limited. As far as the 'vertical' blogs go, I think the quality of content, presentation has changed (for the better) significantly.
It is quite difficult to choose five blogs, but here are five blogs that are on my "check-constantly-for-updates" list in my RSS reader:
Q: What is your advice to someone who wants to start a blog?
That's a tough one. I think this depends on the purpose of the blog. You have to decide who you write for: yourself or the reader. When you write for yourself, do not be bothered about whether others will like it. Don't watch the stats and such. Just write in the best way you can; write what you like. After some time you will find your audience. If you want to write for the reader, then run it like a business, define your audience then create content. Promote your blog, find an audience and bring them to your blog. Search on Google and you will find much advice for a blog of this nature.
Q: Do you earn revenue through your blog? How does one go about it?
Lot's of "revenue" – in the form of good wishes, lovely comments, and great conversations! 😀 No, I do not earn any financial revenue from my blog. I will never do that for Gaizabonts. Revenue objectives influence direction. At least on my blog, I do not want any restrictions and pressure.
Q: According to you, what is the future of Blogging?
I really would not be able to tell you that. I do not subscribe to the "<Insert platform name here> is dead" philosophy. Things change, for sure, but I find it very foolish when people say something is "dead" or for that matter, "here to stay." I think people find the best way to express themselves after looking at or trying everything that is available to them. Formats may change, the medium may change, but people will want to express themselves.
Q: Let's conclude off with a few favorites.
Color: Happy Lemon Yellow
Movie: The Shawshank Redemption
TV Show: Difficult, but I'll go with "Lie To Me"
Book: Very difficult, I cannot answer this question! 🙂 Feel free to check my books on GoodReads
Time of Day: Night
Your Zodiac Sign: Capricorn
Thank you Atul for this wonderful interview and the thought provoking answers. Isn't he an awesome guy to start a conversation with and just go on and on? Do it now! 
Connect with Atul: Blog, BlogAdda, Twitter.