With fatherís day just around the corner, itís time to celebrate all the wonderful fathers, father figures, and male mentors out there. A perfect time to honor every father with our new WOW. It's not an easy thing, being the best father you can be. But you're making a huge difference in your child's life now, and every day of your child's future and for that accept our deepest gratitude as we celebrate you!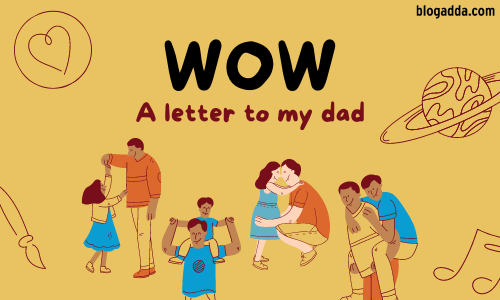 'I cannot think of any need in childhood as strong as the need for a father's protection.' – Sigmund Freud
Throughout someoneís life, they have a role model that they look up to and admire. Whether it can be a superhero, a relative, or even a friend, they still look up to that individual. Most children look up to their fathers to lay down the rules for them and as role models. Whatever gratitude and love we have for them do not get received if we donít express them in the first place.†
This weekend, for our WOW we would like you to 'Write a letter to your dad' Do you have a memory you want to share? Or are there things youíve always wanted to say to your father but never have? Release those feelings and thoughts in this letter. If your dad is still with you, consider giving him a copy of the letter on Fatherís Day.
How did you and your family show appreciation for your father growing up? Do let us know in the comment section.
Remember to submit your blogpost before Sunday midnight to be eligible as a valid entry and win a chance to display the WOW badge proudly on your blog and social networks.
Kindly add this line in your blogpost, ĎThis post is a part of Write Over the Weekend, an initiative for Indian Bloggers by BlogAdda.í Click on the submit button below and share your WOW entry.
This is also the time to use our social media platform power to help each other in these difficult times. Please feel free to tag us on Twitter, Instagram, or Facebook if you or anyone on your list needs help with resources. We will share it on our feed.
Keep Blogging! :)†