We all need a corner where one can be truly oneself, without bothering to keep up appearances and live in one's own little bubble world for a while. Like a caress after a rough day, a corner we love has nowadays become even more intimate during these tough times. We have been asked to stay home and our reply has been "everything is going to be ok".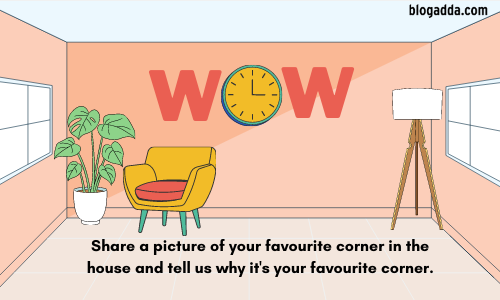 Everyone has a favourite corner in the house that's close to their soul. It could be your living room where you make memories with your family, the cozy corner where you curl up with a book, the lush green garden where you unwind, or a hideout after your fight with one of your family member.

For this edition of WOW, we want you to 'Share a picture of your favourite corner in the house' and tell us why it's your favourite. Describe your corner and how it makes you feel. If you have multiple favourite corners in the house you can share multiple pictures as well.

What are you reading in your favourite corner this week? Do let us know in the comment section below.
Remember to submit your blogpost before Sunday midnight to be eligible as a valid entry and win a chance to display the WOW badge proudly on your blog and social networks.
Kindly add this line in your blogpost, 'This post is a part of Write Over the Weekend, an initiative for Indian Bloggers by BlogAdda.' Click on the submit button below and share your WOW entry.
This is also the time to use our social media platform power to help each other in these difficult times. Please feel free to tag us on Twitter, Instagram, or Facebook if you or anyone on your list needs help with resources. We will share it on our feed.
Have a great weekend! 🙂