A big hello to everyone. And a bigger shout to all the wonderful women out here. Happy Women's Day. You truly are the first multi-tasker ever and continue to amaze everyone around you for the things you do and are capable of. Simply Awesome. Keep rocking.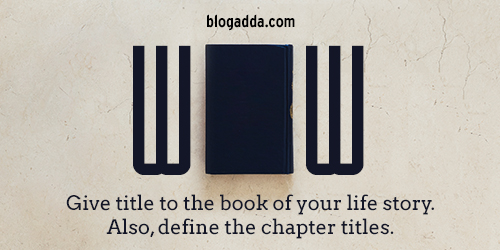 And while this edition is published on Women's Day, who are responsible to have made several lives wonderful, let us talk about the life story of you. For all the wonderful bloggers and the super blogposts that you write, how about writing a book of your life story! 🙂 Well, we aren't asking you to write a book here, but something else.
This weekend for the #WOW prompt, we want you to 'Give title to the book of your life story. Also, define the chapter titles'. If your life story is in the form of a book, what would you want the title of the book be? Tell us why that title would be apt. In addition, it will be very interesting to know the chapters of your life. Again, you can just let us know the titles of those chapters and why do you think such? Wear your thinking cap and share with us all. 🙂
Do ensure you publish your entries before Sunday midnight and share with us using the button below. Win yourself a chance to get the WOW badge for your blog and social networks.
Kindly add this line in your blogpost, 'This post is a part of Write Over the Weekend, an initiative for Indian Bloggers by BlogAdda.' Click on the submit button below to submit your WOW entry. Have a fantastic weekend!