Namaste. The cold weather seems pretty pleasant across most of the regions of India though globally, at some places, it has been terrible. How are you welcoming the shortest month of the year? This month is also about expressing love and well, there is a day for it – Valentine's Day. 🙂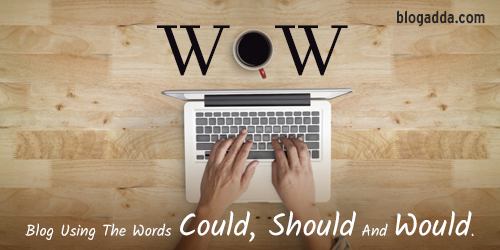 Bloggers are the best when it comes to expressing their thoughts on their blog, though not necessarily their love to others, when it comes to in person! 🙂 2018 has ended about 35 days ago and we are looking forward to 2019. There are lot of things that could have been done last year and a lot more that we would do this year, how about writing a blogpost on such?
This weekend, for WOW, we would like you to 'Write A Story or Poem Using The Words Could, Should & Would.' You can use these words anywhere in your blogpost, just ensure that you mark them bold. We look forward to seeing these used creatively and also read the story/poem you publish using them.
Do remember to share your blogpost before Sunday midnight to be accounted as a valid entry and a chance to win the WOW badge that you can share on your blog and social networks.
Request to add this line in your blogpost, 'This post is a part of Write Over the Weekend, an initiative for Indian Bloggers by BlogAdda.' Click on the submit button below to submit your WOW entry. Have a great weekend!