Ristically speaking, we want to tell you, you are the best and we love you. Did you spot something wrong? Well, there is a word that we made up. And we want you do as well. 🙂 Read more to find out how.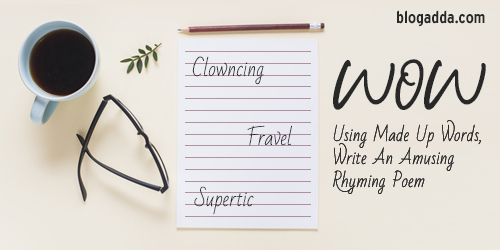 First, allow us to wish everyone a very Happy Republic Day, albeit, a day earlier. Starting today and for the next two days, have lot of fun with your family if they are around or pamper yourself if you are alone.
Over the weekend, we also want you to blog about this. We want you to make up some words that are not in the dictionary and use them into a rhyming poem. This weekend, our WOW prompt is "Using Made Up Words, Write An Amusing Rhyming Poem". You can use upto 5 made up words and mark them bold in the blogpost that you share with us. We think this one will be challenging and it'll be fun to read your posts.
Do make sure that you submit your blogpost by Sunday midnight to be eligible for a valid entry and get a chance to win the WOW badge which you can proudly display on your blog and your social media presence.
Kindly add this line in your blogpost, 'This post is a part of Write Over the Weekend, an initiative for Indian Bloggers by BlogAdda.' Click on the submit button below to submit your WOW entry. Celebrate Blogging!