Hello. How's your new year resolutions going on? 😛 Has the shining new diary got some new entries? How about your blog? What are your blog resolutions for this year? If you do require any help, do write or message on social and we will help. It is good to do a clean-up of your blog as well, atleast once in a year.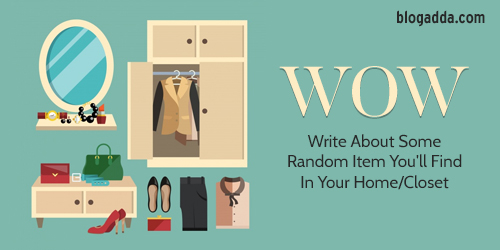 We all try and clean our wardrobe, rooms and home once in a while and for some, very regularly. Year end or start gives us an opportunity to do this. At the same time, there are some items that hold special memories for us and they are retained for the longest time. Even if you don't have such, there is always a story behind almost every object you've at your home.
This weekend, we want you to 'Write about some random item you'll find in your home or closet'. It'll be nice if you click a photo of the same and include in your blogpost and tell us your memories, story or anything that is associated with the item. We are sure, if you are attentive, you will discover a couple of things that you wouldn't have noticed for quite some time in your home. 🙂
Ensure that you submit your blogpost before Sunday midnight to be eligible as a valid entry and a chance to be amongst the winning entries which will allow you to place the WOW winner badge in your blogpost and social networks.
Add this line in your blogpost, 'This post is a part of Write Over the Weekend, an initiative for Indian Bloggers by BlogAdda.' Click on the submit button below to submit your WOW entry to be considered valid. Celebrate Blogging!