The Literature & Film Festival of Delhi Technological University, Yuvaan, is a 3 day celebration of the Literature and Film Universe. If you are a literature enthusiast and a cinema fanatic, you'll love these 3 days where people from different walks of life will come together at Delhi Technological University.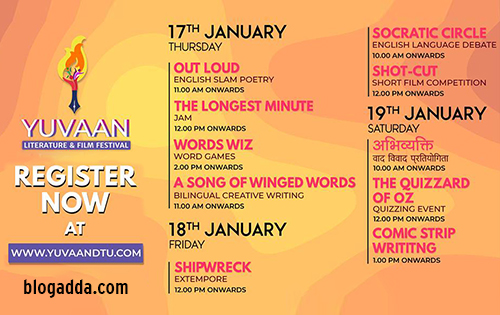 As for the celebrity list, Manisha Koirala, The celebrated actress will be at Yuvaan '19 by DTU for the Delhi release of her book 'Healed'. You have the chance to catch her live at DTU's Open Air Theatre at 3 PM. What's more? There will be A Night of Story Telling with Amandeep Singh, Helly Shah and Mohammed Sadriwala on the same day 8 PM onwards! Not just that, the morning will be filled with competitions. There will be a creative writing competition for all the writing enthusiasts; A song of winged words wherein you can pen down your wildest daydreams; Out Loud for all the dear slam poets – this is your chance to shout out the words and make the world listen to you and then you can participate in The Longest Minute (JAM) and Words Wiz.
It's not over yet. That was about the first day at the fest. The second day seems even more exciting. It'll kick off with Socratic Circle, the English debate competition, followed by a discussion on War and Peace with Major General G. D. Bakshi at the OAT 12:30 PM onwards. All the Poetry fans will be treated with Unerase Poetry with Simar Singh, Gaurav Tripathi, Megha Rao and Hasan Baldiwala. This will be followed by Tapecast: A Cinema Discussion and Critic Panel, and give a perfect end to the day with Rooh, the fusion Project, playing soulful Bollywood tunes and making everyone groove, 7PM onwards.
On the final day, there will be Hindi Debate: Abhivyakti, the Quiz Competition: The Quizzard of Oz, Comic Strip writing competition in collab with TBS Planet Comics. Then there's a chance to let it all out at Rehguzar- the open mic with Raja Thakur, 3 PM onwards and Shaam-e-Sher, a Mushaira where poets from different walks of life at OAT 6 PM onwards. End your night with Ruh-e-sufi, which is sure to leave you mesmerized and all welled up.
Get excited for these three days in DTU on the 17th, 18th and 19th of January 2019. It's already the biggest Youth Litfest in all of North India, and is all set to grow bigger.
For more details, visit https://yuvaandtu.com/
Bloggers interested to attend, do write to us at bavity@blogadda.com