"If you never did, you should. These things are fun and fun is good." We start with this wonderful quote by Dr Seuss, and want you to read it again. There are so many things that we have never done for various reasons and honestly, miss a lot of good ones if we aren't doing that or because we think we might not be good at it!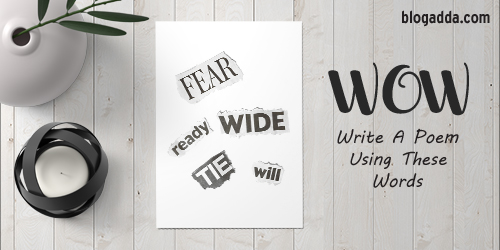 While we are aware that many of you might not have written a poem earlier, we really want you to try for this one. It will be fun, we promise.
This weekend, we would want you to 'Write A Poem Using These Words' – Fear, Ready, Wide, Tie, Will. You can write a small one with 4 lines or as long as you like. It can be funny, serious, scary, thoughtful – about love, relationship, work, life or anything that you feel strongly about. Remember one thing, no matter what you write, enjoy while you compose one. 🙂
John Fowles said 'We all write Poems. It is simply that poets are the ones who write in words.' and our very own A P J Abdul Kalamji once said, 'Poetry comes from the highest happiness or deepest sorrow'. We would like to add one more quote from Donald Miller, who said 'Be encouraged. Your heart is writing a poem on the world and its being turned into a thousand songs.' We would like to end with a short poem on smile:

"A smile is cheer from you to me,
the cost is nothing, it's given for free.
They console the weary and gladden the sad.
And can make someone happy when they are mad."
Unknown
Kindly ensure to submit your blogpost by Sunday midnight to be eligible and win a chance to proudly display the WOW badge on your blog and social networks. Have a fun-

Do add this line in your post, 'This post is a part ofWrite Over the Weekend, an initiative forIndian Bloggersby BlogAdda.' Click on the submit button below and share your WOW entry to be considered valid. Celebrate Blogging!