"All good writing is swimming under water and holding your breath." – F. Scott Fitzgerald. If you are trying to write and aren't sure about what to, we would recommend to participate for WOW every weekend. This one is sure to explore your creativity and get you write. Don't miss it.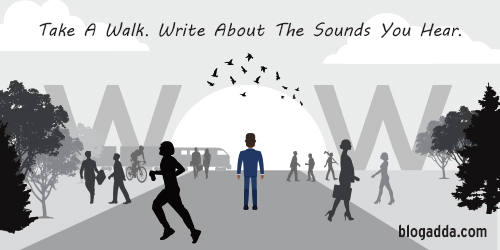 While we are mostly conscious about the things we see and watch, most of us do not pay too much heed on the sounds we hear, unless it is a scream or a loud noise. Maybe we get conditioned by the sounds we hear and do not think too much about it. 

How about taking a walk outside today for 45 minutes (some say that's the ideal time to get benefits from a walk) and consciously listen to all kinds of sounds you can? Immerse, come back fresh and write a blogpost. 

This weekend, we would like you to 'Write About The Sounds You Hear'. Listen to everything you can, register in your mind and share with us. If you cannot take a walk, sit outside or open your windows and hear the sounds. It'll be lovely to see how you interpret and to know what these sounds mean to you. We look forward to read your blogpost.

Remember to share your blogpost by Sunday midnight to be eligible and win a chance to proudly display the WOW badge on your blog and social networks. Have a super productive weekend.

Do add this line in your post, 'This post is a part of Write Over the Weekend, an initiative for Indian Bloggers by BlogAdda.' Click on the submit button below and share your WOW entry to be considered valid. Celebrate Blogging!