The rains continue. Good. Bad. You decide. We wish it is fun for you and you enjoy with people you like to be. Let's imagine this though – How about if instead of the clouds getting us water, gets us something else, something magical? Socho.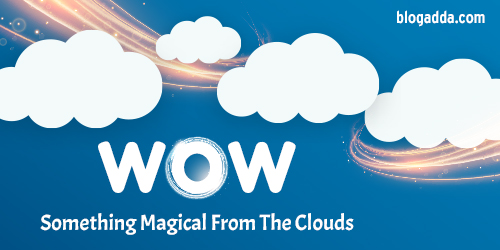 Imagine you are in a town and the grey clouds are hovering over. Everyone is expecting the clouds to burst any moment and drench the dry earth with lot of rains. But, something strange happens. Instead of rains, something else is dropped from the clouds. Chocolates? Coins? Let your imagination run wild and write a story about what happens in that town. Wait, there's more. After all that has come down, you gotta think about how the town is going to get cleaned. 🙂 This is the WOW prompt for this weekend.
You've time till Sunday midnight to share your story and win a chance to proudly display the WOW badge on your blog.
You are requested to add the mandate line mentioned below in your post. 'This post is a part of Write Over the Weekend, an initiative for Indian Bloggers by BlogAdda.' Click on the submit button below to share for your WOW entry to be considered valid. We wish the rains and the magical things from the clouds bring in a lot of happiness to you. Have fun.