BMM students across the city are very excited with the latest mass media festival, Cutting Chai of RD National College starts with a larger and a more exciting format.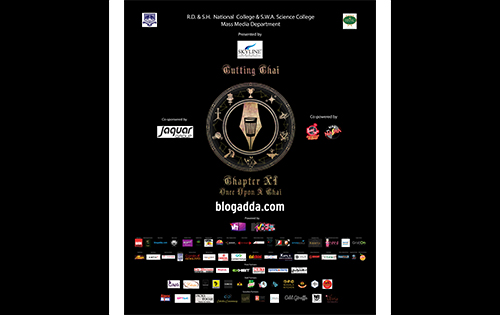 The festival saw an enthusiastic welcome as a number of
students from colleges all across Mumbai gathered at RD National College to begin their journeys for Cutting Chai. The students were all geared up and ready to battle for a chance to compete in the festival. The eliminations for Cutting Chai were filled with zeal and excitement, right from the registrations to the end of the event. The elimination round started with glittering dance performances, judged by Mr. Rohit Bhatnagar and Ms. Kareena Nagpal.
The students of RD National College also engaged the participants in interesting activities. Followed by this were the eliminations for drama. The performances were judged by Mrs. Suchitra Pillai, Ms. Riddhima Tiwari, and Ms. Shafaq Naaz. The event saw impressive performances in every aspect. The countdown to Cutting Chai is a rather short one, and the colleges are preparing themselves for the highlight of the academic year. To keep up with the trend, the students are now geared to show off the newest and best aspect of Cutting Chai through a completely new perspective. The anxious students await this year's annual brew in order to flock the gates of R. D National College.
Cutting Chai is the largest Mass Media festival in Mumbai, organized by the students of the BMM Department of RD National College. The festival is held annually in the premises of the college since a decade and it plays host to various esteemed colleges across Mumbai. Notable personalities like Kareena Kapoor Khan, AR Rahman, and the like have graced Cutting Chai with their presence, some even judging a few events. This year Cutting Chai will be inaugurated on the 9th of February and will last a total of three days.
If you are interested to attend, do write to us at bavity@blogadda.com