We are so close to the year end. Trust 2017 has been nice to you. For today's WOW prompt, we have decided to share a few words. Words, that all you lovely bloggers, use smartly, creatively. Construct a story. While the words for everyone will be the same, we are sure, the story that each one of you write, will be very different.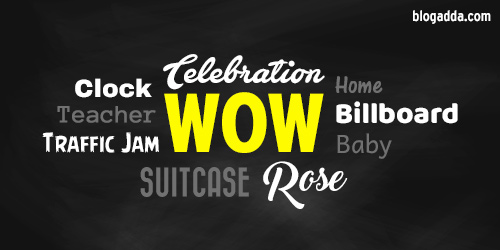 In this week's Write Over the Weekend (WOW) prompt, construct a story with these words Traffic Jam – Billboard – Suitcase – Rose – Clock – Baby – Celebration – Teacher. You can use them in any order you like. Try and add characters, if you wish to. Construct a story. Ensure all words mentioned above are used and mark them bold. Remember, you have time only till Sunday midnight to submit your blog posts and win a chance to proudly display the WOW badge on your blog!
Bloggers are requested to add the mandate line mentioned below in their post. 'This post is a part of Write Over the Weekend, an initiative for Indian Bloggers by BlogAdda.' Click on the submit button below to share and for your WOW entry to be considered valid. All the best. Happy blogging!