'Chaand Taaron Se Chalna Hai Aage, Aasmanon Se Badhna Hai Aage,
Pichhe Reh Jaayega Yeh Zamana,  Yahaan Kal Kya Ho Kisne Jaana'. True that. No one knows what will happen tomorrow. This weekend, write a blogpost starting with the lyrics of your favourite song.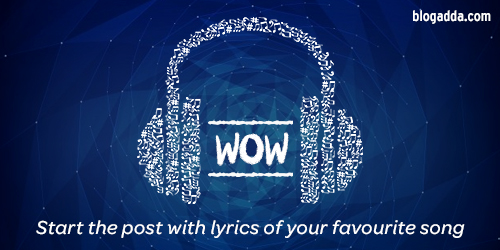 In this week's Write Over the Weekend (WOW) prompt, recollect your favourite songs and start with lyrics of one. Let that be the base of the short story that will follow post that. Remember, you have time only till Sunday midnight to submit your blog posts and win a chance to proudly display the WOW badge on your blog!
Bloggers are requested to add the mandate line mentioned below in their post. 'This post is a part of Write Over the Weekend, an initiative for Indian Bloggers by BlogAdda.' Click on the submit button below to share and for your WOW entry to be considered valid. All the best. Happy blogging!