Parola, the Literary hub of JIIT Noida brings to you its Annual Literary Fest The Joust, scheduled for the 7th and 8th of October, 2017. After the exceptional success of the 1st and 2nd edition, Jaypee Institute of Information Technology is back with a total of seven events and are all set to sweep you into the world of Literature, Poetry and Deliberation.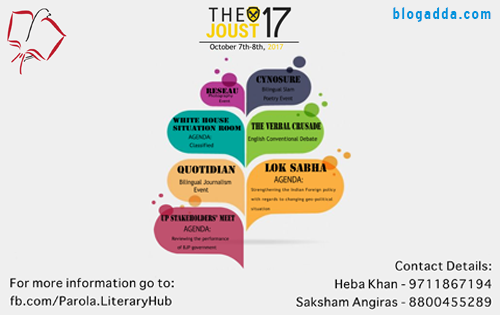 A great platform for all literary enthusiasts to learn and grow, The Joust presents seven events you must take note of.
Cynosure:
A bilingual slam poetry competition where participants get a chance to present their aesthetic and rhythmic knowledge of literature. The time allotted to participants for reading the poem is 3 minutes.
Verbal Crusade:
A debate event for everyone to inculcate the spirit of logical thinking and reasoning and to able to devise counter arguments effectively.
Lok Sabha:
An educational simulation in which participants implement their knowledge of Indian Politics and Diplomacy. The agenda for the committee is 'Strengthening the Indian foreign policy with regards to changing geopolitical situation.'
The U.P. Stakeholder's Meet:
In this event you can critically analyse and discuss the agenda 'Reviewing the performance of BJP government'. A key aspect of this committee is that the citizens of the state participate in it and contribute in the policy making procedure.
White House SIT Room:
A stimulation of an actual White House Situation Room under the agenda- 'classified', where American intellects discuss and deliberate the highly confidential plans. This will be a good chance to understand and implement the knowledge of the American policies and politics.
Quotidian:
A bilingual journalism event of international press where each delegate needs to cover at least two events and submit separate articles pertaining to them at the end of the 2-day festival. The articles will cover the events of the festival, the debates, the innovations and the reforms taking place in all of the committees.
Reseau:
An event where delegates get to observe the event and capture the moments through their art of photography. This event will give the chance to make everyone see the festival through their lens, their own personal vision.
If you want to be part of this electrifying event, send in your applications here. Get more details on their website and follow The Joust on Facebook and Instagram.
Bloggers interested in attending the event, can write to bavity@blogadda.com