Open roads awaited us. We felt as if the winds were talking to us. Our first destination was a rustic virgin beach on  the unexplored Konkan coast. The Tall Coconut trees were gossiping among themselves probably talking about the uninvited guests who were going to come there.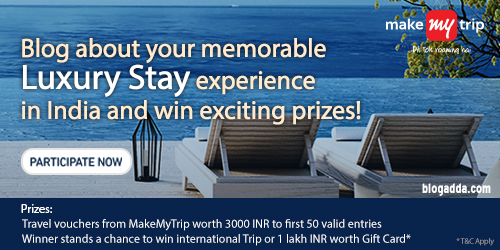 We reached the beach and as soon we got out, the smell of Car's Air conditioner was swiftly replaced by the smell of the moist salty air around us.  Amidst the greenery we spotted a strikingly blue banner which said:
Blog about your memorable Luxury Stay experience in India and win exciting prizes! 
Prizes:
Travel vouchers from MakeMyTrip worth 3000 INR to first 50 valid entries. 
Winner stands a chance to win international Trip or 1 lakh INR worth Gift Card*
Mandates for the activity:
The word limit for every blog post is a minimum of 400 words.
This activity is open only for Indian bloggers.
Blog about your experience of staying in a hotel/resort only from this list. Focus of your post should be on the Hotel/Resort stay experience.
Please include the line, "I am blogging about my luxury stay experience for an activity at BlogAdda in association with

MakeMyTrip

"
Share your blog post on twitter with #MMTLuxuryStays tagging @makemytrip and @blogadda.


Only blog posts submitted through

this form will be considered valid.

The last date for submission of this blog post is midnight, 5th February 2017.
One blogger can write a maximum of 2 blog posts for this activity.
Click on the button below to submit your entry!
*Top blogpost will be shortlisted in the pool from which grand prize winner will be chosen. Being declared as top blogpost in this contest DOES NOT guarantee you will win the grand prize.