Relationships are made up of both happy and dull moments. While the journey through the upheavals can be difficult, a touch of warmth is all you need to smooth things over.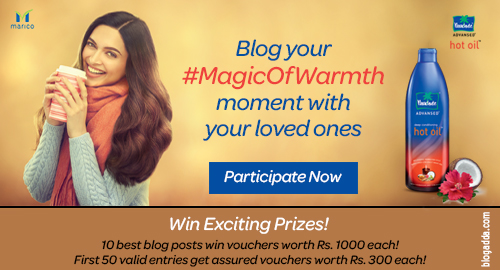 Our lives are made of many heart melting moments which come back and play themselves time and again when needed. We want you to relive those moments again.
Have a look at this video –
This video beautifully depicts how the coldness between siblings is easily repaired with the magic of warmth. We would like you to go down memory lane and share a magical moment of warmth with anyone close to your heart.
Blog about one #MagicOfWarmth moment with your loved ones which melts your heart.
Prizes:
10 best blog posts win vouchers worth Rs. 1000 each!
First 50 valid entries get assured vouchers worth Rs. 300 each!
Click on the button below to submit your entry!
Mandates for the activity:
1. The word limit for every blog post is a minimum of 400 words.
2. This activity is open only for Indian bloggers.
3. Please include the line, "I'm blogging about my #MagicOfWarmth moment at BlogAdda in association with Parachute Advansed Hot Oil"
4. Please embed the video in your blog post for it to be considered valid.
5. Share your blog post on twitter tagging @Parachute_Adv and @blogadda.
6. Share your blog post on Facebook tagging Parachute Advansed and BlogAdda.com
7. Only blog posts submitted through this form will be considered valid.
8. The last date for submission of this blog post is midnight, 29th January 2017.
9. One blogger can write a maximum of 2 blog posts for this activity.