Drishti is the quintessential dais for students to bring their talent in the limelight and has participants comprising of students from colleges sprawling all over Mumbai as well as outside it.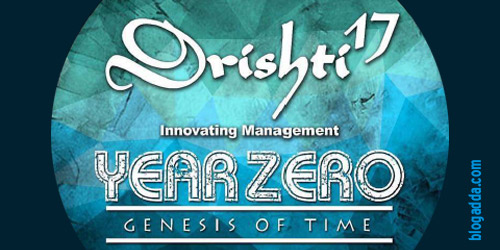 Drishti not only believes in striving to achieve one's dreams but also to go that extra mile. Every year they seem to make it bigger, better and scale new heights. They believe that there is no summit to one's imagination which thus gave birth to their tagline 'Innovating Management'. What they bring to the table are fun and intriguing events keeping in line with their USP of never repeating events. Being in our 18th year, they have only grown magnanimously from where they began.
The events at Drishti are something everyone anticipates. Drawing the management maestro in young students are the management events at Drishti. This comprises of the legacy event, Echelon; the flagship event, Drishti Business Personality; Business @ Campus, a flagship event patented by the no.1 business school in the country- IIM Ahmedabad and many more. Another flagship event, the Crime Scene Investigation (CSI), an exhilarating event which will put your wits to test and bring out the Sherlock in you! Drishti not only tests your brains but also your physical abilities. It brings out the sportsman within you through its unique sports events involving startling twists. Dealing with the splendor of Dance, Drama and Fashion Show, Drishti's Cultural Day is unparalleled and serves to be a litmus test for one's talent on the cultural front.
Drishti plays host to a plethora of celebrities coming in from various walks of life like Anushka Sharma, Katrina Kaif, Aditya Roy Kapoor, Rithvik Dhanjani, Rannvijay Singh to name a few. The Drishti Conclave, being a panel discussion, also sees eminent personalities from various backgrounds. They come together on one platform to voice and discuss their opinions on the pressing issues the world is facing. Every year, Drishti has eminent personalities forming a part of the panel like Anurag Kashyap, Laxmi Narayan Tripathi, Rajeev Lakshman, Vithal Kamat and many more!
The pronite at Drishti is a perfect package of excitement mixed with fun for all the music lovers where the contingents let their competitive spirit rest and enjoy themselves thoroughly! Some of Drishti's past artists have been Kanika Kapoor, Kailash Kher, DJ NYK, DJ Zenith, the Sunburn Campus and many more!
Team Drishti strongly believes in the following lines "Difficult roads often lead to beautiful destinations". The Team at Drishti fulfills their social obligations towards the society by undertaking a social cause and furthering it through their social week.
This year they soar even higher by associating with The United Nations: Global Goals for Sustainable Development.
Just like last year, Drishti plans to reach higher pinnacles of success and as the name suggests, the 'Vision' for this festival is to keep growing, surpass all that is expected out of it, and evolve into an unparalleled version of itself.
For more details, visit https://www.facebook.com/nmdrishti/