Digital technologies have evolved the business sphere in a much larger way. Digital platform empowers flexible and dynamic digital business. Now every company thrives on being a tech-based company, to make work easier and stay on the pace. To examine all the aspects of digital video business, Afaqs is organizing its exclusive event called VDONXT Asia conference. We at BlogAdda are proud to be their blogging partners. We are happy to announce that bloggers who wish to attend this one of its kind events, kindly contact at BlogAdda!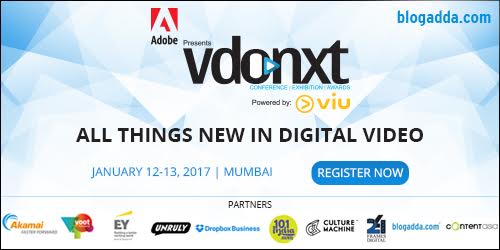 What's VDONXT Asia?
It's a two-day event organized to collaborate with various tech firms and have guest speakers from overseas. The object is to examine the aspects and grow in the field of the digital video business. Ernst & Young will be presenting a special report on the state of digital video in Asia, at the event.
What's in for you?
The emphasis will be on the Indian market, we expect several speakers from overseas so that you get a broader picture of what's happening across Asia.
Interesting exhibition, masterclasses, and awards
Learning factors that will go into pushing the digital video revolution onward – with a special emphasis on its role in marketing communications.
Players from the ecosystem from marketers, to agencies, to VOD/OTT, to content creators.
When: January 12, 2017 – January 13, 2017
Where: Westin, Goregaon, Mumbai
For more details visit:
Website:  www.vdonxt.com
Facebook:  https://www.facebook.com/vdonxtasia/
Twitter:  https://twitter.com/vdonxtasia
So, don't miss this chance to be a part of this grand event. If you wish to attend this program contact us at bavity@blogadda.com and we will give an opportunity to the bloggers to be a part of this exclusive conference!