Something's Fishy
Just keep swimming, just keep swimming. This is the mantra that fishes teach us. They are pets who need the least maintenance, but they give us feelings of calm and quiet when we look at them. We think fishes just eat and swim about in their tanks. But we chanced upon a fish tank recently, and thought that the occupants of the tank have a ringside view of life! So this week's The BlogAdda Weekly attempts to view things from the point of view of these water dwellers. That's right, the second installment of the The BlogAdda Weekly: The Pet Project takes you for a dive into water and into the world of fishes. Last week, we looked at a day in Lilo's life. If you haven't read it yet, take a look at Part 1 here.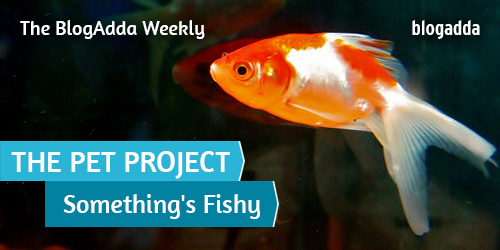 Thud, thud, thud. I'm jolted from my reverie by shudders passing through my sea home. OK, OK, this is not a tsunami or an earthquake, but just someone tapping on the glass. The impact has sent currents into the water, making me sway as I swim. Now that I'm awake and sure that I'm not in mortal danger, I go for my daily morning swim. My little sea is well lit up this morning with sunlight filtering in from the outside, as well as another light from the top. I look around to catch the eye of my friends who are in little seas of their own. I wave my fin at them and they wave back, at least I think they do.
By now, it's time for breakfast. Oh you thought I can't tell time or remember when I last ate! That's just some fishy information that people have spread because they don't know better. Right now, all the fishes in all these seas know that it's time for breakfast. I can see them hanging out near the surface waiting for the food to arrive. The human who takes care of us walks around putting food in each of the seas. The water starts smelling delicious as I try to catch each of the food balls that are floating in the water. What else do I want in life?
Breakfast gives more power to my fins and I zoom around in my little home. I need to make sure everything is as it should be, inspect my kingdom, as they would say. I swim around the little reef, and around the small box that makes bubbles every few minutes. I play with the bubbles for a while, and then go to explore the small cave that also doubles as my bedroom. It's a small sea, but hey it's home. Right now I am the only fish in this sea, but I did used to share it with someone a long time ago. His name was Casper and he was a good friend, but the caretaker person took him out one day and I never saw him again. I can't remember if he was black with white fins or blue with yellow fins, but I hope he is okay.
After a while, I'm getting bored. I try changing the way I swim, I looking out at the glass, staring at the other fish in the glass. It's funny how he looks quite like me, and tries to copy everything I do. I breathe, he breathes. I move, he moves. I don't know why he doesn't come and talk to me, doesn't seem like a friendly fellow.
When I'm done with this, I play my fun 'Float and Run' game. Here's how it goes. I slow down, and then stop swimming and let my body float. Aaaaah, so relaxing. The fun part is that I do this when the caretaker person is around. He looks at me and goes 'Oh no, oh no!' Even better when there are other people here and they all point and start getting panicked. Sometimes he'll also tap the glass to make me move, but I stay still. Only when he brings that net thing on a stick to catch me, do I swim away to the corner of the tank. Hah! Tricked again! See…I float, he runs.
Oh I didn't notice, it's almost evening. The place I stay is in a very crowded area, and I hear some kind of roars, grumbles and honks all the time. In the evening, these noises increase, as do the number of people near my sea. Sometimes some of the people look familiar, like I've seen them before, but I can't be sure. It's probably my memories playing tricks on me, again. It is almost getting dark outside and I know that close the door and dim the light, and then I would start feeling relaxed. The person got up from his chair and was walking towards the door to close it, when two people walked in. The two people, one big one and the other a smaller version of him, walked around looking at all the seas.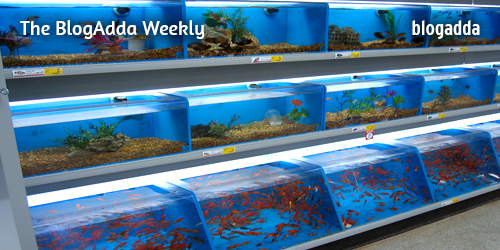 They walked past mine twice and then the third time around stood and stared at me. I swam to the reef and tried to hide. I knew what was coming and I didn't like it. The smaller person tapped at the glass and it shook the whole sea. I hate it when people do that. He also was saying something, but I can't hear anything properly through the water. The taller person was shaking his head at the smaller person, but I didn't care. My eyes were on the person that feeds me. He was walking towards my sea with that net on a stick thing. I knew what was going to happen next. As expected, he tried to catch me in the net. I tried to hide, to swim away, but to no avail. He finally caught me and took me out of the water. Gasp! I can't breathe, I feel lightheaded. Whooosh! I'm dropped into a smaller sea.
He handed my sea to the smaller person, who took it in his hands and brought it closer to his face. I tried to swim away from his looming face but the sea ended where it began. I could see the two taller persons talking but I was still afraid of the smaller one's face. He was showing me his gigantic teeth! What if he decided to eat me? He then took the small sea away from his face and breathed a sigh of relief, at least he wouldn't eat me right now. The taller person and his smaller version then walked out of the door, taking me with them, and I knew that I would never see my friends again, just I had never seen the other fishes that take been taken out of this door.
I silently said goodbye to my sea, my friends, everything that I had even known in my life. I have no clue what is coming next, and I'm very afraid.
I don't know where these two people are taking me. The smaller one keeps me in his hands and looks at me every once in awhile. We then travel in some sort of metal room that moves at a really fast speed. The ride leaves me feeling a little a woozy by the time we arrive, as my sea has shaken a lot in the small room. We then exit the metal contraption and walk through another door, a much different one this time. The larger person then takes my sea and empties it and me into another larger sea. At least now I have some place to swim around in. Both the larger one and the smaller one stare at me then. Another person, a female one this time joins them, and also stares at me. She then tousles the hair of the smaller one.
They stand there staring at me for a few moments. Oh, I didn't notice, my new sea has a small net which has worms in it. Live worms! That's such a tasty treat! I run to the worms and eat my fill of the worms. I quite like this!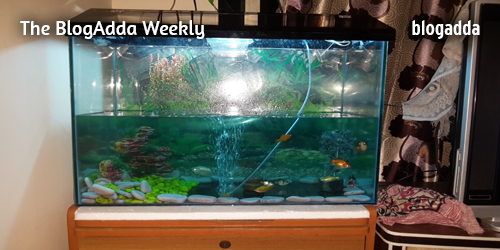 Once I'm done, they leave me and finally walk away. I then decide to explore my new sea. It is similar in size to the previous one. If anything, it might be a little bigger. It definitely has more reefs than the other one, and a larger cave. There is also a box that makes bubbles. I examine to see if the bubbles are any different, but they don't appear to be. It is way past my bedtime now, so I decide to sleep and explore tomorrow in the morning.
It's been a few weeks since they brought me here. I have settled in well I think. The smaller person and I now have a routine. Every morning, after he wakes up, he comes, calls out my name and feeds me. He has named me Ariel, and I like it. He then leaves for part of the day, but he comes back later after a few hours. And then is when the fun begins. As soon as he walk in the door, he runs to the sea, to see, well me. I then go and hide amongst the reefs and he tries to find me. He taps the glass to let me know that he sees me, not violently like before, but just enough to get my attention. We do this over and over again until the female person calls him to eat.
In the evening, he comes and sits by me as he does something with a stick in his hand on a white piece of paper. He does this most days, after he is done, he calls the female person and she comes and checks his work. But while he is working, he will look at me every once in awhile and smile. After finishing his work, he sits by me and stares at this huge box of light on the wall where there are people that move. I don't understand why they like to watch people move around, but then again that is what I did most of the day in my old sea.
He then feeds me, turns out the light, and we say goodnight in our own ways. He blows me a kiss, while I blow a bubble out of my mouth. We then go to sleep in our own bedrooms.
I was scared to leave my old sea, but now I know that I needn't have, and what an adventure it has been so far. And tomorrow is another day…
So, what do you think? Did you like the second installment of The Pet Project? What did you like? What didn't you like? Tell us in the comments below. Also, if you missed out on Part 1 of the Pet Series, read it here. It follows a day in the life on a dog, but from the point of view of the dog.