Did you know that there is a Facebook page called Goats of Bangladesh modeled on Humans of New York? Well, even we didn't, till Sruthijith KK informed us of the same at his session at #WIN15. Sruthijith, the Editor-in-Chief of Huffington Post India, peppered his talk with many such digital trends, from Dubsmash to Instagram filters.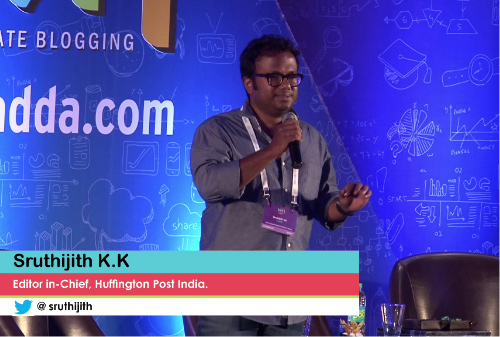 Sruthijith offered some gems from his treasure trove of editorial knowledge. He spoke about knowing your niche and choosing a platform which is best suited to your preferred format of expression, be it text, photo, audio or video. We loved the tips that he gave at the end of the session, especially the one about clickbait headlines failing in the long run if they don't deliver on the promise of information. Confused? Well, we're sure you'll get what we're saying when you watch Sruthijith's session in the video below.
We would love to hear your thoughts and favourite takeaways from Sruthijith's #WIN15 session in the comments section below!