When one travels, it is often an exploration of a place culture or a destination. One wants to know about the food, history and architecture and the stories would end there itself. While one is travelling, there are some who help you organize the trip, arrange for your stay and take you around your chosen destination. Have you ever wondered how these dots get connected to give you a lasting memory of your trip? Have you ever tried to analyse the impact of your trip on issues like natural resources, pollution etc?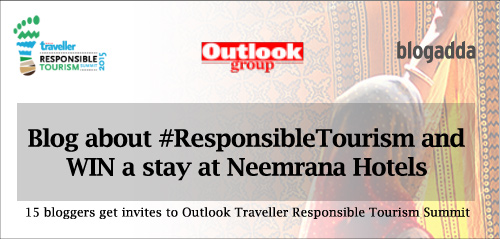 Tourism on one hand has become a tool measuring the growth of an economy and on the other hand has given rise to negative aspects that have gone beyond human control. One doesn't really question how many trees I killed on my road trip while using the poisonous fuel? That is obvious. But it is our responsibility to make sure that our travel is a pure discovery and not a contradictory affair with nature and its resources.  It is time we take Responsible Tourism in our own hands.
The thought might have crossed a lot of nomads' minds or it might not have but it is the need of the hour. Responsible Tourism as nascent as it might sound to you, is a definite term that has united hundreds globally to serve their core interests and love for local environment. Travellers all over have associated themselves to contribute and take up initiatives that help the local communities benefit directly and the protect the wealth and diversities of our culture, heritage and habitats.
BlogAdda in association with Outlook Traveller is inviting you to share your ideas on #ResponsibleTourism and thus promote sensitive travel ethics and increase awareness among masses. It could be as simple as carrying your own water bottle and not littering the tourist spots with Plastic Bottles.
Blog your ideas on #ResponsibleTourism and tell us how can one be a catalyst to a lasting change in the way one travels.
Prizes:
3 winners will get One Night Stay Vouchers (for a couple) at Neemrana Hotel Properties (except for Arco Iris, Ishavilas, and Le Colonial.)
15 bloggers will be invited to the Travel Summit.
Date: 9th December, 2015
Venue: ITC Maurya, Delhi
Time: 9:00 am onwards
For more details about the sessions, Click Here.
Wear your thinking caps and blog your sustainable ideas.
Mandates for this activity
1. The word limit for every blog post is a minimum of 400 words.
2. Please include the line, "I am blogging for #ResponsibleTourism activity by Outlook Traveller in association with BlogAdda"
3. Only blog posts submitted through this form will be considered valid.
4. The last date for submission of this blog post is midnight December 10, 2015.
5. One blogger can write a maximum of 2 blog posts for this activity.
Take this opportunity to discover new ways to contribute in travelling responsibly and connecting with people who love doing the same.