Update: It's Alive! The SMW Mumbai workshop hosted by BlogAdda is now open for registration! Go to the end of the blog post for details and to know how to attend it!
Social Media Week is one of the most influential and anticipated events in the digital space on a global scale. The talks, panel discussions, workshops and networking opportunities that are a part of SMW have the potential to set the course for digital trends in the coming months. And BlogAdda bloggers will get an exclusive chance to attend #SMWMumbai and blog about it!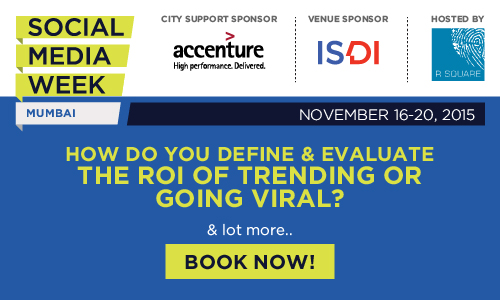 SMW Mumbai is happening at ISDI Campus from 16th – 20th November. BlogAdda is happy to partner with SMW for the 3rd time. The schedule will see talks on Next Gen Social Insights and Cult Brands, discussions about viral videos, social media's impact on journalism, workshops on travel, thinking about content and many more. For more details, check the SMW Mumbai schedule here.
Names like Arnab Goswami, Suhel Seth, Viraj Jani, Cara Parrish, Carina Chopra, Bobby Umar, Sapan Verma, Abhinaya Chandrasekhar and others are a part of the SMW Mumbai speakers list. Check out the full list of speakers here.
All you have to do is register for SMW Mumbai by clicking on the button below.
Click to Register!
Don't forget to mention your preferred day of attendance while filling the form. Shortlisted bloggers will be given access to SMW based on their selection on first come first serve basis. The pass entitles you access to the sessions, networking parties and meals at SMW Mumbai*
For any blogger, SMW Mumbai can be an unbelievable treasure trove of information and value addition to their art. The first day of the Mumbai leg of SMW will see a special workshop hosted by BlogAdda.
Details of Workshop hosted by BlogAdda
SPINNING CONTENT – WRITING FOR THE WEB
Creative Writing workshop
Friday, 20th November 2015,
11 am – 1 pm
1o bloggers will get free access to this workshop (obviously because you are a part of the BlogAdda family). You will get to learn a lot about writing for the web in the workshop, and for a blogger, what better than to polish your writing skills? If you're interested in attending this workshop, please fill the form by clicking on the button above and drop us a mail at contact@blogadda.com with your username.
Once you go back after attending SMW Mumbai, you have to write blog posts about your SMW experience, one blog post for every day that you attend SMW Mumbai.
So get registering and get social this year at SMW Mumbai and go home with unforgettable memories, learning and acquaintances.
If you want more information about #SMWMumbai, click on the links below!
*The pass does not include entry to SMW Mumbai workshops