Stop pinching yourself, we don't want you to be hurt. You're not dreaming and neither are we kidding. We're actually telling you that your blog post (which has to be mind blowing, of course) can get you a weekend in Goa!
Participate in the Renault #LiveLodgycal activity at BlogAdda and blog about at least 5 things that are an important part of your world and which you will take along with you in your Renault Lodgy. The Renault Lodgy also has some great features that allow you to carry your world with you, so incorporate these features as creatively as you can in your blog post!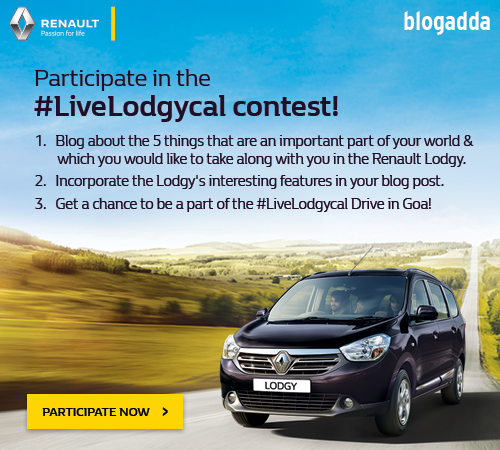 Technically, our world is the Earth, but the definition of 'My World' differs from person to person. These are the things which matter most to you, without which your life starts looking bleak and colourless. These things may be regular every day things or something precious, it's all up to you. You might have your own list of things that are your world, things that you can't live without, so take out the Top 5 things from that list, and write a creative blog post about them and why they are important enough to take with you!
You definitely don't need to restrict your imagination when it comes to writing about which 5 things you will take with you, because the new Renault Lodgy has all the space you can think of and more!
The Renault Lodgy has a massive boot space of 207 litres expandable to 1861 liters, which can carry a whole chest of books, your gaming console, a set of speakers and more with ease.
If it's entertainment you can't live without, then you can connect your phone to the Medianav System and have your fun on the go! Can't bear to be parted from your smart phone for any length of time? The mobile charger will ensure that your phone never runs out of juice. And if your world resides in your family, you can take all of them with you with ease, courtesy of the 7-8 seater Renault Lodgy.
Of course, no journey is complete without food and drinks, so you can carry your favourite food and drinks without the fear of spilling with the cup holders and luxurious flight trays.
The Renault Lodgy has some really impressive features for you to incorporate in your blog post. For more ideas, download the brochure for the Renault Lodgy.
Yes, yes we're telling you about the Goa bit too. Wait for it….
The best 5 blog posts will get to go on an amazing weekend trip to Goa for the #LiveLodgycal Drive from 19th to 21st June! It's going to be one experience that you don't want to miss!
Click on the button below to submit your entry.
Click To Submit!
Instructions to follow:
1. The word limit for each blog post is a minimum of 400 words.
2. Every blogger can submit two entries for this activity.
3. The deadline for this activity is midnight, 12th June, 2015.
4. Please include the line "I'm participating in the #LiveLodgycal contest with Renault in association with BlogAdda to get a chance to be a part of the #LiveLodgycal Drive in Goa."
Now it's time to dive into your brain and come out with the 5 gems that make up your world which you will take with you in your Renault Lodgy!