'Cricket is a religion in India' is quite a truism. And all of us know how passionate Indians are about religion, right? So when the 11 demigods of Indian cricket (the God has of course retired) came to the Sydney Cricket Ground for the semi final against Australia after a dream run in the World Cup, prayers and hopes had already reached a fever pitch.
This fever turned into a frenzy as India allowed Australia to score 328 and then folded at 233, losing by 95 runs. Add to that the disappointing performances by players like Virat Kohli and Suresh Raina, and Indians on social media turned into a swarm of buzzing bees. Well, that's what this week's Buzzing Blogosphere is all about – The India vs Australia World Cup semi final.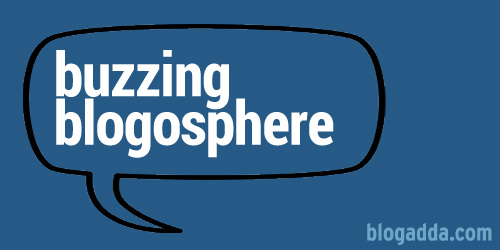 There might have been a lot of noise surrounding the semi final, but true cricket enthusiasts were focused on the game, which was always going to be a tough one for India. Dipesh says in his blog post, "Dhawan started charging the bowlers and took on Faulkner who was smashed for 30 runs in his first two overs. At the other end Rohit hooked Johnson in the crowd for a six and the crowd roared. India were going along nicely when Dhawan had a brain freeze and he sliced a wide ball straight to Maxwell off Hazlewood.
The whole complexion of the game changed with that one error. Australia were right on top and the bowlers started charging in again. Virat made a solitary run before top edging a pull off Johnson."
If wishes were horses, beggars would ride. And it is quite possible that the Indian team could have rode these wishes right into the World Cup finals. After the match, there was a lot of discussion about what the Indian team could have done differently on that fateful day to change its fortunes. CricTracker says, "The new ball was doing all sorts of mischief in the first few over's and Australian batsmen were finding it very tough to negotiate it but some luck made them survive that tough initial burst of Shami and Umesh as they only lost one wicket and later on capitalized on that start. Three Wickets in first 10 over's could have made a difference."
India's loss in a match that was not even a close one, or as they say, didn't even take it down to the wire, broke many hearts in India. Some reacted with anger, some with frustration, and some even with guilt about breaking some superstitious match ritual that caused India's loss! But the true sports fan reacted with equanimity about the result, knowing that Team India tried their best and that it was too much to expect India to win over a strong Australian team in their home country. Tabish Syed Sultan says, "India will be back and hard and will retain their ruthless attitude once again. Till then they have to ignore all the criticism and just enjoy their cricket because once they will be back in form these critics will only appreciate them. Team India has given us priceless moments of celebrations and one bad day can't determine their class and potential."
Every major event gives plenty of fodder for satirists and humorists to write about, and the India Vs Australia semi final was as big as they come. The UnReal Times tried to take some of the sting out of India's disappointing loss by doing what they do best, making a fake Facebook Wall. Take a look at it here.
One of the most absurd things to come out of the semi final match was the lynching of Virat Kohli and Anushka Sharma on social media. Sure, Virat getting out at a dismal score of 1 off 13 balls was a huge blow to the Indian team, but some brains went into overdrive blaming his girlfriend Anushka Sharma's presence at the SCG for the debacle. Memes and jokes were circulated, rude tweets were written and even Anushka's effigies were burnt!
Well, Anushka did find plenty of support in the Indian blogosphere. Friday Moviez Blog compiled a list of unsavoury tweets made on Twitter about the actress and also stressed that most of the film industry stood by Anushka and criticized the people who tried to pin the blame on her. It says, "If Anushka was Virat's wife, her presence would have definitely shut up the patriarchal Indians. But because she is Virat's girlfriend, she was to be blamed for the loss. Why was Anushka never given credit when Virat was in good form, is our question to the male chauvinist out there. And something similar is the view of the celebrities who have stood for her."
The intensity of the barbs aimed at Anushka opened up a huge can of worms about patriarchy and sexist attitudes in India, where people found it easier to blame a cricketer's famous girlfriend rather than look for the actual reasons for the defeat. Shareen Robin says, "But why blame Anushka Sharma? Why call her a 'panoti' or 'a distraction?' Because she is a woman? A woman who chose take out time from her busy schedule to spend her time travelling all the way till Sydney to support her beau and the Indian team? His inability to handle pressure on the field caused Kohli to perform miserably during the semi-finals."
Some bloggers connected the attempt to humiliate Anushka Sharma with the larger evils plaguing the country, the hypocrisy that allows such evils to perpetuate in India. Rekha Mishra says, "On one hand we show our grief on India's daughter and on the other hand we Insult India's daughter to a great extent. Like seriously, Anushka's presence in the match was the reason behind Virat's wicket? Huh! Didn't you notice Anushka was shocked just like us when Virat got out?"
Most of the blogosphere spoke out in support of Anushka Sharma and tried to debunk the assumption that Anushka's presence had anything to do with Virat's failure to score for India in a crunch situation. They also exhorted Anushka to be the confident actress and girlfriend that she is, and continue supporting her beau. Desh Kapoor writes, "I hope that she goes to the very next game of Virat's and keeps doing so until her love triumphs over the prejudice of a few silly and shallow minds. And when Virat scores his next double hundred with her present, as I know he would itch to do, we will know if Anushka is really a "panauti"? Or a loving presence in the life of a star cricketer of our generation!"
In all this hullabaloo over a famous girl coming to support her equally famous boyfriend during one of his biggest days, a few bloggers managed to keep the focus where it belonged – on Dhoni and team's killer efforts throughout the tournament, right up to the semis. Read this poem by Sanchit to see what the true Indian cricket fan feels about India's run at the World Cup.
And finally, Mahendra Singh Dhoni reclaimed his position as one of the most respected cricket captains in the world with his quality of leading from the front, and trying to stick around even when things were getting hopeless on the pitch. This is hardly surprising, considering Dhoni's long standing habit of doing whatever the team needs at that point. As Tanay Sukumar writes – "His captaincy and his finishing overshadowed his scoring skills. April 2006, he reached the top of the ODI batting rankings. The world took note. He wasn't captain, after all. 2007, he became captain – and unfortunately for the publicity of his batting, a great one."
This World Cup has been quite a revelation for the Indian team. We got dependable players like Shami and Yadav in the tournament, and star players like Kohli and Dhoni showed how important they are for the team, their performance in any single match notwithstanding. But most of all, this World Cup showed the nature of some cricket 'fans', dishing out laurels and #WeWontGiveItBack tweets when the team is performing, and breaking TVs when it is not.
Are these the kind of fans that Indian cricket deserves? Tell us your thoughts in the comments section below!