Being in love is one of the greatest feelings in the world, what with the emotion being compared to being on a roller coaster, jumping from an airplane, floating in space or…well, being on hallucinogenic drugs. And if we're talking about First Loves, then these feelings are multiplied a thousand times. Would you like to write about Your First Love?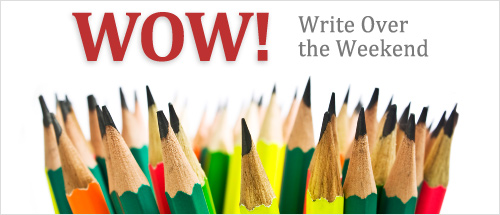 This week's WOW prompt is 'My First Love'.
They say that your first love, whether it happens at 16 or 60, is unforgettable. The rush of being in love is new and unmatched, and pretty much impossible to replicate. Write a story or about an incident about 'My First Love' for this week's WOW prompt, and get in the mood for love. With Valentines Day around the corner, it sure is the right time to think about first loves!
Remember, you have time only till Sunday midnight to submit your blog posts and have a chance to get the WOW badge!
Include this code:
This post is a part of Write Over the Weekend, an initiative for Indian Bloggers by BlogAdda.
Good news! There is now an easier way to submit your WOW entries, so just click on the submission link below for your WOW entry to be considered valid.

Every weekend, we give creative writing prompts for you to write blog posts on! Hope you enjoy our creative writing inspiration for this week. 🙂
All those who are featured in WOW can now flaunt the WOW badge on your blog. Download your badge now!
We tend to do the craziest things when in love, and no logic or reasoning can stop us. Have you done something or plan to do something crazy to show your partner how much you love them? Blog about it in the BlueStone #SoundOfLove activity and you can win a stunning pure gold band!