The sound of your lover's voice, the beep of your phone when you get a message from your spouse, listening to your partner's heartbeats and knowing that everything is well with the world – so many things about love are related to sound, right?
They say that if it's not passionate or crazy, it's not love. If you believe this to be true, then we have the perfect activity for you. BlogAdda in association with BlueStone presents #SoundOfLove where your crazy love story can win you a pure gold #SoundOfLove band!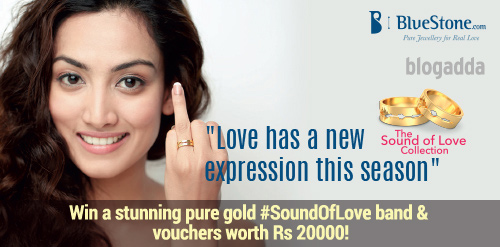 Yes, tell us about your craziest expression of love, where you pushed the boundaries to tell your partner just how much they mean to you. Be at your wackiest best and give us a great story of love, a story that will enthrall the world with it's uniqueness. It could be the story of a proposal that swept your partner off their feet, or the crazy way in which you plan to propose to your partner.
Need to jog your memory to come up with such a story? Watch the video below for some inspiration.
Since love is such a rewarding feeling, we have some great rewards for you too!
Prizes:
1. The best blog post will win a pure gold #SoundOfLove band.
2. 20 bloggers with superbly written blog posts will win vouchers worth Rs. 1000 each.
The deadline for this activity is midnight of 11th February, so be sure to submit your entry before this date, because love is in the air!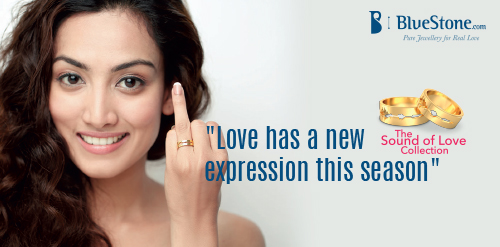 Click on the button below to submit your entry.
Submit Now!
Instructions to follow:
1. The minimum word limit for each blog post is 300 words.
2. Each blogger can submit two entries for this activity.
3. The deadline for this activity is midnight, 11th February 2015.
4. Please include the following line in your blog post "I am participating in the #SoundOfLove activity at BlogAdda in association with Bluestone".
5. Include the #SoundOfLove video and this photo given above in your blog post for your entry to be considered valid.
This is the time to make your crazy side known to the world. Blog for #SoundOfLove and you might just celebrate this Valentines Day with a pure gold #SoundOfLove band!