Content marketing today is not relegated to the sidelines of marketing strategies, but occupies a position of pride front and centre. This billion dollar industry is poised for an even bigger surge in both its importance and scope in the coming years, and this is precisely why it needs a definitive direction.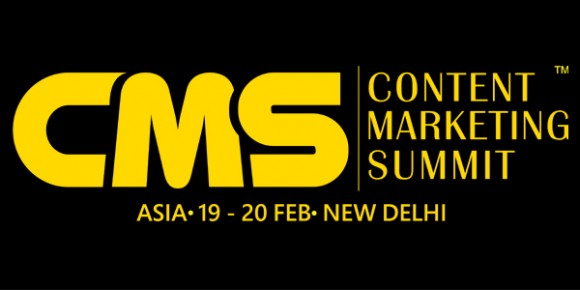 Here is where the Content Marketing Summit comes in. This one of a kind summit that was started in 2014 is the place where everyone from some of the most remarkable minds, leading content practitioners, brands, and publishers come together to push the boundaries of content marketing.
Want to know who the speakers this year are? Let's start off with a few names:
1. Adam Singolda – Founder and CEO, Taboola
2. Anant Rangaswami – Editor, CNBC- TV18
3. Ashish Patil – Vice President, Business and Creative, YRF
4. Alok Agarwal – Head of Marketing, GSK
5. Amit Sinha Roy – Vice President, Marketing and Strategy, Tata Communications
6. Apurva Chamaria – Director and Head, Global Brand and Digital Marketing
7. Avik Chattopadhyay – Co-Creator of Exper
8. Bhaskar Choudhuri – Director, Marketing, Lenovo
9. Satyajit Bhatkal – Director, Satyamev Jayate
10. Sujatha V Kumar – Director, Marketing, Coca Cola
To know the full list of illustrious speakers at CMS Asia 2015, click here.
CMS Asia 2015 will have sessions around targeting youth with content, how to stand out in the world of content marketing, success stories, mobile content marketing, the synergy between marketing and publishing and many more contemporary topics.
This makes the summit an ideal place to be for brand managers, social media managers, community managers, editors, bloggers, publishers, production houses to meet, network, share insights and learn about the new developments in the content marketing world.
CMS Asia is going to be held at the Westin, Gurgaon on the 19th and 20th of February. There will be more than 20 insightful sessions over a period of 2 days and delegates will get a chance to meet the best minds in the content marketing sphere.
These sessions will be followed by by the CMS Asia 2015 Awards ceremony where awards will be given out in 5 categories to the best in the field of content marketing.
The bottom line? If you are remotely related to content marketing or wish to know how to make content marketing work for you and your brand, CMS Asia 2015 is the place to be for you!
You can find more details and register for the summit here.