It is the final weekend of 2014 and this weekend has brought for you the last WOW prompt of the year. This time's writing inspiration is being given specially to welcome the new year with a new outlook. Hope you enjoy writing for it!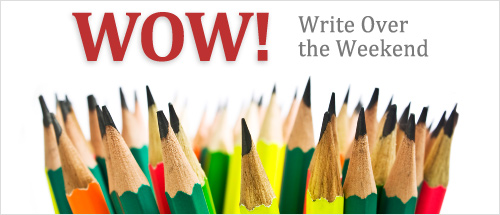 This week you have to write on 'A New Beginning'
When a year ends, it leaves us with a lot of memories and thoughts about the year gone by. It also heralds the start of the next year which brings new hope about the future. The start of something spells freshness and is full of promise, isn't it?
But is it necessary that a new beginning should coincide with changing months or years? Isn't it up to us to make a new beginning when the time comes?
That is what we want you to write about- A new beginning, the inception of something that wasn't present before. And we want your personal touch to each and every of these blog posts!
Remember, you have time only till Sunday midnight to submit your blog posts and have a chance to get the WOW badge!
Include this code:
This post is a part of Write Over the Weekend, an initiative for Indian Bloggers by BlogAdda.
Good news! There is now an easier way to submit your WOW entries, so submit your entries via the link below for them to be considered valid.

It is the last week for you to participate in the Gillette #WillYouShave activity and Earn Unlimited. Don't miss this opportunity!
Every weekend, we give a creative writing prompt for you to write on! Hope you enjoy our creative writing inspiration for this week. 🙂
All those who are featured in WOW can now flaunt the WOW badge on your blog. Download your badge now!