The Annual Business-Cultural Fest of Xavier Institue of Management Bhubaneswar is one of the the biggest fests conducted in Eastern India.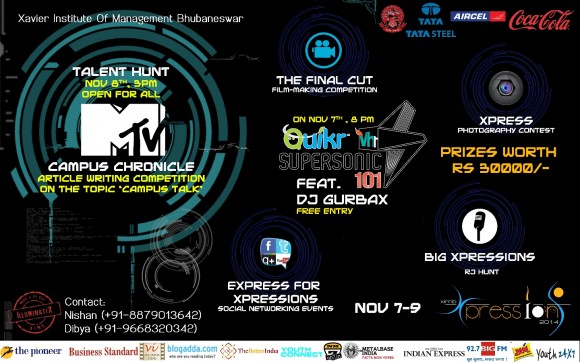 Conceived 17 years ago and conducted each year by the student body, months of hard-work and sleepless nights make this, an event to remember. The spirit of Xpressions truly lies in the fact that every student participates wholeheartedly to make it a mega success. This event not only symbolizes the strength, creativity and talent the students of XIMB have but, also encourage them to work together towards one common goal. With a footfall of over 20,000 each year, Xpressions strive to get bigger and better with time.
Spanned out over three days, it conducts over 30 events and plays host to leading B-schools of the country. A mix of cultural and business events, the festival aims to capture talent in every way. Every year Xpressions brings to the platter a score of budding talent and business acumen from across the country. Individuals battle it out in various arenas to ultimately rise as the winners. But, this year there is more to the fervor of Xpressions.
Months of hardwork and dedication amalgamated together give shape to Kurukshetra, Gladiator, Spardha, Helios and Skill City, the flagship games of Xpressions. Apart from these business events, the seven functional committees of XIMB; Maxim, Constrat, Xsys, XIMAHR and Constrat conduct their individual competitions partnered with different companies.
The cultural events of Xpressions are conducted and conceptualized by X-stage, the cultural committee of XIMB. The events are tailored to test the participants across fields like Drama, Dance, Singing, Creativity, etc. This year X-stage is conducting five major events; Decibelz, Carnival De Vogue, Thirkan, Aaghaz and Goonj. The events will be judges by connoisseurs of each field and winners will be awarded handsomely with cash prizes and goodies.