Update: We will start the reimbursement process next week. If you don't get the payment by the 25th of December, please let us know. We will soon be sending a mail to reconfirm the details. 
Festivals are the perfect time for shopping and when it is Diwali, most of us shop clothes, furniture, decorative items, cars, electronic goods and list goes on. The spending for a family increases during this time. Let us do something different this Diwali!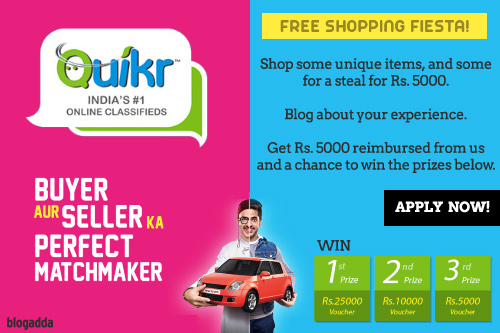 This Diwali, Goddess of wealth in association with Quikr.com, has something magical for you, so that you can shop peacefully. Just chant the mantra…
We, in association with Quikr.com give you a chance to go on shopping spree. Register with us if you want to shop for worth of thousands without spending a single penny.
Here is what you have to do
Register with us here
If shortlisted among the 100 bloggers you will be informed via an email.
Go ahead and shop something unique as well as something of your choice from Quikr.com, totaling the worth of Rs.5000
Blog about the shopping experience.
Submit the blog post with the required details and we reimburse you Rs 5000.

What do you get:
 Assured Rs 5000 deposited to your account.
The Three Best Posts win the following:

Rs 25000 Voucher
Rs 10000 Voucher
Rs 5000 Voucher
Instructions for the contest:
1.The blog post should be of at least 850 words.
2.Include the following code in the HTML section of the blog post.
This post is a part of Quikr.com activity at BlogAdda.com
(Need help in including the code? Click here for both WordPress and Blogger.com)
3. Last date to submit the entries is 31st October, 2014 before midnight.