"It is better to travel well than to arrive" – Buddha
It was fun reading all the creatively weaved imaginative travel stories. The way you filled colors in the picture of all the dreamy, exotic locations tempted us to visit them too.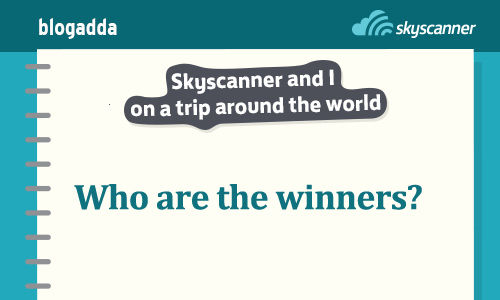 Thank you bloggers for your overwhelming response and sharing your travel dreams with us.
We are glad to announce the winners of this fun-filled activity – "Skyscanner and I on a trip around the world" judged by the Skyscanner team.
Who has won the grand prize of – Skyscanner Travel & Hotel Bookings worth Rs 1 Lakh?
It is Ankita Sinha for her post @ Chasing Greece The Skyscanner Way
Congratulations Ankita!
Time now to announce the amazing bloggers who win vouchers worth Rs 10000. They are:
Wait its not over as yet. More winners. Here are the amazing one's who win vouchers worth Rs 5000:
A hearty congratulations to all of you!! Thank You for your participation.
Keep Blogging and participate in more activities to win more. 🙂