She is late, even today. She runs briskly towards the jam-packed bridge at the railway station, her hair flying but eyes fixated on the indicator. And then it comes, out of nowhere, like a bolt from the blue. He pinches her where it hurt her the most: her esteem.
He pinches her swiftly, without remorse and tries to disappear among the sea of people on that over crowded bridge. She is numb at first, stung with his touch. Her mind tells her to go ahead meekly, ignoring what has happened while a voice from inside of her persistently screams , "Go, get that b****rd!"
Something snaps inside her. She turns around and runs trying to recognise him, as he hides among the masses. She sees his hands; big and broad, trying to locate another hapless victim. She taps him softly on his shoulder. He turns around, unaware. And then, thunder strikes. She slaps him without any inhibition, she slaps him without any intimation. She slaps him and the time stops. His hand rushes to his cheeks, his face flushed with embarrassment. She is shaking all over, with anger and relief. She is Mardaani. It is time to take a stand, raise a voice and swim against the tide. It is time to make this cause personal.
Share with us spectacular stories of spectacular women that you have met in your life.
We are looking for stories of women who stood up for themselves or others, without any fear or expectations of being lauded. Blog about the untold stories of such living women and bring their stories to light.
The blogpost has to have a minimum of 300 words.
To get an edge, add a photo of the Mardaani you've written about holding a placard that says 'I AM MARDAANI'.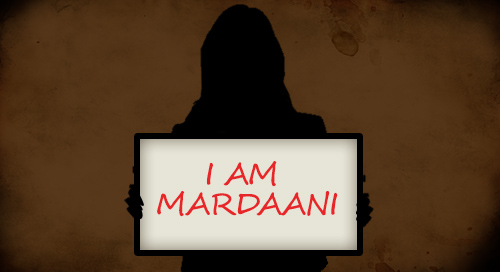 3 winners with inspiring stories of living Mardaani women will be flown to Mumbai, if based in other cities, for a meet with Rani Mukerji, in a special screening of the film at Yash Raj Studios! We will giveaway many more surprises to salute your fearlessness. There are 50 early bird movie merchandise up for grabs.
This is written as a part of I am Mardaani activity exclusively at BlogAdda.com for Indian Bloggers.
You all have a fire and respect for such fiery women. It's time you blog about it.
Submit your post here to get a chance to meet Rani Mukerji.
The last date for this activity is July 15, 2014.