Bloggers, we're here with some good news for you!
Owing to all the innumerable requests we have received from all of you, we are extending our #MyRoleModel Activity!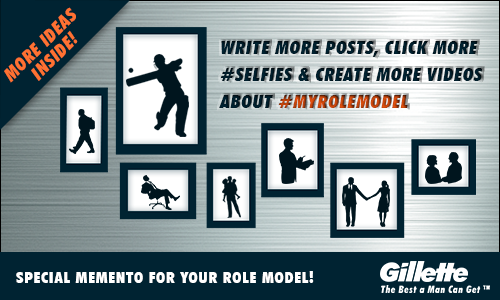 Now you can write more posts, click more #selfies & create more videos about your role models!
Blog and tell us which celebrity is your role model! Why has he made it to your role models list? Do you like the fact that he's hard working or does the part about him where he believes spending quality time with family impress you?
We're bringing you a chance where you can write an open letter to your role model. There are many people who teach you a lot about life! This is an opportunity to tell them how what they taught you has helped you and made you a better person 😀
We all are passionate about something in life. From writing to cooking and from music to studying history, there are varied passions that define us! What is your passion, that in which you seek solace? Who is your role model when we talk about your passion? Who is the one person you wish to follow when it comes to your passion? Blog about it now!
You want to have a look at what our creative bloggers have been up to all this while?
Check out these quirky selfies that our bloggers have taken with their role models:
So many inspirational videos came in our way! We're sharing a few of them with you:
Sangita Passey :
Maniparna Sen Gupta :
Anmol Rawat :
Abhyudaya Shrivastava :
Gaurab Mukherjee :
I am writing about #MyRoleModel as a part of the activity by Gillette India in association with BlogAdda.com.
To express your interest for making a video dedicated to your role model,
Please Express Your Interest Here.
We look forward to all your inspiring stories!