Today at your Adda we've got someone who believes parenting is the toughest job she has ever done. Her blog KidsStopPress is a one stop destination for all kids related activities and more. She finds joys in the small things of life and loves to travel with her children. Here's a fun interview with Mansi Zaveri, winner of the Best Blog Award in the Parenting Category at the BlogAdda Blog Awards 2014.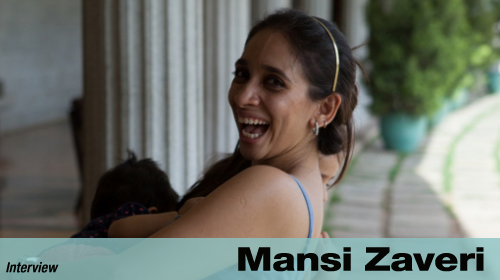 Q. Do you agree to the fact that bloggers today play the roles of key influencers in the society? If yes, how?
Most Definitely! It is also a refreshing experience that how today a perspective is not restricted to just celebrities, news anchors or public figures. Today people want to read perspectives of people who are more relatable and just normal people. Bloggers today sieve and filter through the information that is available and make things worth their readers time. With so many mediums and channels and so much information can be nauseating. Bloggers create a like minded community and connect and communicate with their readers in a non – intrusive yet accessible way. Today bloggers share information, opinions and perspectives in real time which is the need of the hour.
Q. Does blogging lose its charm if taken up as a profession?
No, it does not lose its charm. Bloggers by nature are people who have an opinion and love to share. If you are looking at a building your blog for the long term then being professional will be motivating, help you share more and reach out to a larger audience.
Q. What is it that sets the blog KidsStopPress apart from others?
Kidsstoppress is the only daily weekday parenting blog in the country where we share refreshing and relevant content everyday. The thumb rule of blogging and which we practice very closely is be honest to your readers and value their time. Give them information that is essential and important to them. We always share first hand experiences which is very important for the parents to make an informed decision is what our readers value the most. Other key ingredients also include reader experience and connect. We value our readers' time and ensure we never bombard them with information that is not relevant. We engage with them in a non intrusive way. Also there is enough information that is available online but none of it had relevance to India as a country where each city has its own flavour or to me as a parent.
None of the information was available online where urban parents spend 60% of their time. A lot of it is available but is so scattered and scrambled that I wanted a one stop guide to raising kids and having fun while raising them. I always wondered how could I know about what to's and how to's about kids sitting at my desk in office/home.
Q. What is it that gave you an idea to start a blog revolving around parenting? Do tell us how you came up with the name Kids Stop Press for your blog?
Kidsstoppress.com was conceived in June 2011, 2 years after my first child was born. As a first time mother there are just so many questions/doubts/ anxieties that we go through in an attempt to provide the best to our children. We are always in a dilemma whether what we are doing is right or wrong. Being a full time working mom back then, I had limited access to what moms would discuss on what is good, bad, tried and tested with children but what I did have access is to technology. On an average Urban Indian parents between the age of 24 – 40 spend 50% of their time in front of screen be it Ipad, computer or the smart phone. Then why is information not accessible to us in that format. That's when I thought of the idea on how I could combine both.
In my journey to discover the best for my child I also understood that the only person whose opinion matters to me when I am deciding something for my child is another mother. Unless I hear the experiences from another mother I probably cannot trust it.
KSP is an attempt to make real experiences available for parents online in an efficient, enjoyable and effective way.
For a blog the name reflects a lot about the blogger and the content it will share. "Stop Press is a phrase indicating the arrival of extremely significant news or referring to the discovery of significant information". The mission at Kidsstoppress is explore, experience and share. So Kidsstoppress just seemed like a perfect fit.
Q. Every child is unique and comes with its own sets of needs and requirements. The parents also come with their own share of anxieties. How do you cater to all these various needs through your blog?
Parenting is an ongoing journey and there is no right or wrong way to parenting. I think it's very intuitive so we try and get perspectives from a lot of mothers and experts in the industry. Also today parents are more open and willing to share. If any reader poses a question or an idea we try and ask other parents going through similar experiences to help and share making it a collaborative effort.
Q. Children are very choosy when it comes to food. Health is a concern for a majority of parents. How can this situation be tackled effectively according to you?
Food is an extremely important part of raising children world over. The best way to have healthy food habits:
Expose the child right from 6 months onwards to as many colours, textures, tastes, flavours as you can.
Parents must have healthy food habits too. If you indulge in fried foods, aerated drinks and excessive sugary foods then the child is bound to take that up too.
Involve your children in the entire process of cooking food, from buying groceries to cleaning to making it.
Most tantrums including food are related to 3 things. Fatigue, Lack of sleep and hunger. Understand why your child has a tantrum.
Q. The teenage is the age when it is said that the parents try to be as close as possible to the child while on the other hand, the kids are just as rebellious. What would you advice our parents to do during this stage?
According to me we must always empower our kids and treat them like responsible individuals. Explain to them the consequences of their decisions and let them take those decisions. Your child might fumble once or twice but he will eventually understand that I need to understand all perspectives before I make a decision. Also in today's times parents need to be friends with their kids and at the same time maintain that fine line of respect.
Q. Do you think that more parents should begin to blog and share their parenting stories. Also, tell us why you think so?
Yes there a very few bloggers who blog on parenting and that is because you need to be a parent to write about it. Parenting is a tough full time job and it's difficult for a lot of new moms to survive it. Most bloggers assume that parenting blog would include pictures alone and with no reference to a category. Additionally blogging is a time consuming process but it would help so many other parents and help them get different perspectives.

Q. Which are three other parenting blogs that you believe are good & religiously follow?
Q. What is the most gratifying aspect of blogging according to you?
When you know something that you shared made a difference to someone. When I meet my readers for events and they tell me that they follow Kidsstoppress like a bible for their kids and they trust us to give an unbiased point of view.
Q. As a parent, there's no doubt that you have to face trying times. When the frustration is at its maximum, what would your genuine advice for our readers be?
Parenting according to me is the toughest job I have ever done. There are times that are trying but what helps is to prioritize. We often get frustrated when we are trying to manage too much or are unable to live upto our own expectations. Also don't let others opinions about you affect you. A lot of parents often feel frustrated by what others are going to think about them or their style of parenting. Lastly ask for help when you need to. Family and friends are always there so just seek help when you feel like its going to be tough to manage this or it will be a stretch.
12. Tell us 5 happy moments you have experienced that come to your mind when we say parenting.
Waking up each morning and seeing both my girls cuddling and hugging each other and waiting for the other one to arrive.
Driving my kids to school and picking them after school. They are so excited to share everything that happened in school with you.
The fact that my kids can walk into office anytime and they know that mom is working but she's around. They provide a lot of entertainment to the entire team.
Each day at the park when It's "no phone time" and I am disconnected with the rest of the world and enjoy small joys of life with my kids.
Sleeping in my mom's lap.
Q. When you face a parenting dilemma, who is it that you go for advice to?
There are 2 people who I think can understand me and my sensibilities. One ofcourse is my husband who is as involved in the parenting process and second would be my sister. She helps me stay grounded and understands my strengths and weaknesses as a parent. She also has a perspective of the children and the opportunities & challenges they face today so she helps me take informed decisions.
Q. What special can we expect to see from Kids Stop Press in the near future?
In the coming months:
Lots of new features and new cities
We will extend our Initiative 'Bazaar' again this year by giving a platform to budding mom – entrepreneurs who showcase innovative baby products.
The attempt to make Kidsstoppress.com a multi platform brand where we will populate ourselves aggressively on Youtube – with video reviews, Television and Radio.
I would love to have a travel show with kids. I think it's the most unexplored space. I would love to host a travel show with my kids to share information on what to do, where to stay, child friendly food, places and how to make it a fun experience.
Host a food show for kids. Indian mothers lay so much emphasis on food and we have so many different dishes from each part of the country that I would love to feature moms from all the different regions.
Q. You won the Best Blog Award for the Parenting Category by BlogAdda at WIN. How did you and your loved ones react to this?
It was a fantastic experience and a pleasant surprise. I think winning anything is always reassuring. It also in a sense is a reward for all the hard work that you put in and feels like people are appreciating all of it. My family and friends were extremely happy and they just felt that all the hard work and discipline has paid off.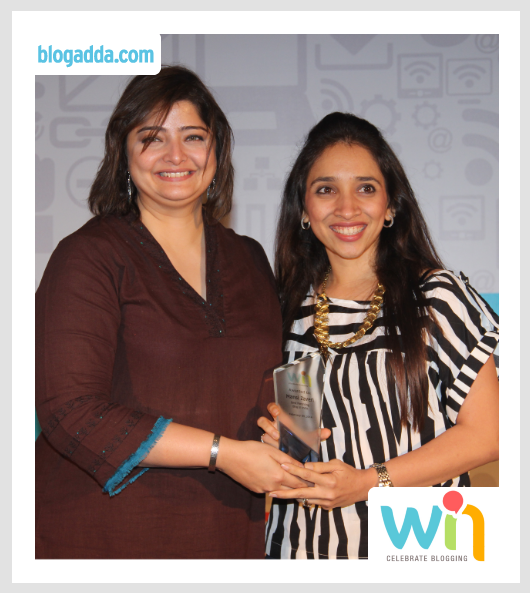 Q. Tell us five things that feature on your bucket list.
A trip to Ladakh
Skydiving
Stay in every country in the world and learn about its culture & raising kids there
To be able to practice yoga like Laura Sykora
To have a house in Goa
Q. Let's conclude off with a few favourites.
Connect with Mansi Zaveri: Blog, BlogAdda, Twitter, Facebook, Google+, Pinterest, Instagram, YouTube.
Thank You Mansi for a great interview!
For all those who missed #WIN14, you can relive it through the photos!
Bloggers, we hope you enjoyed reading this Interview with Mansi where she talks about the dilemmas parents face and how through her blog, along with her team she tries to provide solutions for the same. 
We look forward to your feedback about this interview.
Main Blog Image Courtesy: Uurmi Mehul Photography