Today at your Adda we have someone who loves to try out tricky trends! Someone who is absolutely smitten by animal prints and has a crazy fetish for shoes. She is a street shopper who always strives to bring you the best styled outfits, within your budget! A fashionista who finds inspiration from everything that surrounds her and someone who strongly believes that blogging has helped broaden her horizons. An ardent DIY enthusiast. We present to you an interview with Roxanne D'souza, who won the Best Blog Award in the Fashion Category at the BlogAdda Blog Awards 2014!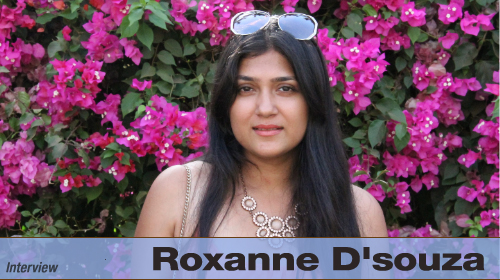 Q: When and how did your entire interest in fashion and fashion blogging begin and grow?
A: The fashion part was definitely inbuilt, most girls already have these 'fashion genes' but only a few can express them well. It started out when I was bored at work and looking at fashion related websites, and after I bookmarked a ton of articles, I realised I should just save them instead, so I opened up an account at blogger, without much consideration named it 'Head2Heels' and starting picking and choosing content that I found good. My first post was on jumpsuits in 2010, with pictures and tips on how to wear them. I then came across many international personal blogs, with outfit and style posts, and I thought I can also do that, and I didn't know the Indian blogging scene yet, and so I started posting my outfits by around 2012.
Q: Was becoming a stylist and fashion blogger something you wanted to do from the start?
A: No and no. I was always confused (and still am) when it came to what I wanted to do. At one time I wanted to be a fashion designer, once I wanted to launch my own footwear label, once I even wanted to become a vet! So how did I become a stylist? I worked under a designer/stylist for 6 months and then interned at a fashion magazine, and I realised I really liked what I was doing! And that's how I became a stylist.
Q: What is it that plays the most important role when it comes to styling and fashion according to you?
A: Understanding your subject. That's the most important part. We live in a real world, where people are not skinny models. Styling really requires some study because what works for someone may not work for the other. I remember when I was studying abroad, I saw people doing 3 year diplomas in fashion styling and I thought to myself, that's silly and they were wasting time. And then I started styling, and that's when I realised how important it is to understand even the smallest and minute details.
Nowadays many girls without a fashion background (like not even a 3 month course) call themselves stylists. Being a stylist is not dressing only yourself up, it's dressing others as well. You might have clients that come to you in all shapes and sizes and you must know how to tackle and help them solve their problems.
Q: How would you define your own personal fashion style for our blogger friends?
A: My style on a daily basis is very relaxed. As a stylist, I find the need to be comfortable while working. I cannot work with high heels and chunky bracelets. I stick to my denims or jeggings and I prefer tees and tunics with flats and sneakers. But I love prints and my heels as well, and I love to mix them around. It's a bit eclectic, because the way I dress and what I wear eventually depends on where I'm going.
Q: How has blogging helped you in your journey as a fashionista?
A: It played a great role. When you blog, you tend to do a lot of research before you put up a post, because ultimately you're telling your readers what to wear and how to wear them. I have a Pinterest board for almost every trend from palazzo pants to floral prints to even geometric shapes. So all this research has made me more aware of all things around me and widened my thoughts as well.
Q: How important is it for the bloggers to interact with their readers? Do you respond to all the comments that you receive?
A: I think it's highly important. My main platforms for interaction would be Twitter, Facebook and Instagram. I see many bloggers who do not bother to give details and answer queries, and that's a bit sad. The entire point of blogging is so that you can share your thoughts and ideas.
I respond to a comment (on my blog) if it's a question. But I think I'm very interactive on Instagram and Facebook as well.
Q: There's often a belief that most people follow about everything stylish being expensive. Could you please tell us your views on this.
A: If you follow Head2Heels you would know that's something I do not believe in. I'm a complete street shopper. Also the market value for fashion is crazy. Like once I was shopping at Colaba causeway, and I came across a raffia weave belt that left me stunned. It was inspired from Dolce & Gabbana's latest collection. Needless to say, I picked it up! The streets are on trend with what's happening all around. So there's nothing about your outfit being less stylish, just because you picked it up from the streets.
To sum it up I think I would get more excited by a pair of animal print shades picked up from a beach in goa after a hard bargain for 90 bucks rather than some store bought pair for 1500-3000.
Q: Out of the entire amazing collection you have, tell us three of your most loved creations/possessions and tell us why they are on your favourites list.
A: It's really hard to pick just 3!
One would definitely be my LBD. I went to Sri Lanka, when I was 16 and while we were shopping I came across a regular black dress. My mom called it plain and asked me how many times I would wear it. After a lot of pleading I got the dress. 9 years later, that dress still hangs in my wardrobe, and the minute I have nothing to wear, that's the first thing I actually do end up wearing be it for a wedding, or a fashion show, or just a random night out.
Another would be my pink Guess bag, which is falling apart and peeling, and I'm trying to find a way to keep it together. When I was studying in Milan, I went to a shopping outlet bordering Switzerland, where you find designer gear for a flat 70% off. After looking at a plain Chanel ganji with no branding for a steep 70 euros (after discount) the bag was a welcome change. It was neon, and this was in 2009, before neon was even a rage. They had pink and a fluorescent version of this bag, all dumped in a box which said pick anyone for 40 euros.
Lastly my custom made Alberto Torresi studded and spiked sneaker wedges. I've been styling for fashion shows for the past 3 years now, and Alberto Torresi custom makes their shoes just for the show. So I send them references and ideas for the collection and sometimes they make them according to that. Every year, for the past 3 years, they've always insisted that I take a pair of shoes/or two after the show (all of them mostly boots) So the second year, I got those wedges, which are totally one of a kind, and I'm in love with them. I wear them to my shoots sometimes.
Q: Which are five other fashion and styling blogs that you religiously follow? What is it about each of these that you absolutely adore?
A: There's no particular blog that I religiously follow. I follow almost every Indian blog and a lot of international ones as well. It makes sense to see how other girls and guys perceive trends and get more ideas.
But if I really had to mention my favourites (no Indian ones because most of them are my friends and I wouldn't want to play around with that)
Gary pepper girl – Love her pictures and those amazing locations she shoots at.
I am Galla – I think every one should follow this one. Guys can learn a thing or two from him, and ladies, he's really hot!
Independent Fashion Bloggers – Maybe I'm cheating here a bit, but they have an answer to all blogging questions and you can meet and make great friends from all over the world.
The blonde Salad – I think she lives every fashion blogger's dream. I love her campaigns and her travel lifestyle!
PS I made this – I love DIY. Period.
Q: You have a fetish for shoes and love animal prints. We would love to know more about this from you.
A: Haha you got that right. The shoe fetish, my parents could explain in detail. From the time I was little, they had to divert my attention when we passed a shoe store or else I would throw a tantrum and cry apparently. Hahaha. I don't do that anymore. But who doesn't love shoes? I think almost every girl falls under this category.
I literally freak out over animal prints. My mom had an animal prints themed party for me where all my guests wore the print. That's how much I love animal prints. The tricky thing is, while sometimes it can make one look trashy, when worn correctly, it looks amazing. Not many girls can pull off an animal print dress or printed denims for that matter, but subtle pieces like a scarf or shoes or even a watch add so much character to any outfit.
Q: We see that you use a lot of junk jewellery to complete the look of your outfits. What about junk jewellery appeals to you the most?
A: Junk jewellery falls under my street shopping. I do not wear jewellery on a daily basis, only when I'm going out or something, but I still have a crazy collection as well. I stock up on neckpieces, because I hardly ever wear earrings.
Q: Give us a sneak peek into what or who inspires your creations?
A: I get inspired by anything. Once a woman sweeping the streets inspired me with her neon saree and pastel blouse. I like trying out tricky trends, and finding a balance to them. I'll wear the most brightest colours together and the craziest clash of prints, just to show that it can be worn like that for real and not just on the runway or magazine editorials.
Q: You won the Best Blog Award for the Fashion Category by BlogAdda at WIN. How did you and your loved ones react to this?
A: That was really unexpected, I didn't even know I was nominated until a friend told me. But I'm so grateful for all those who voted and supported me.
After the win, my battery was low, so I just texted a picture of the trophy to my sister. When I got home, my dad had champagne ready! So we clicked some pictures and drank champagne. It was fun.
Q: What is the future of fashion blogging in India according to you.
A: I see a lot of future in the fashion blogging scene here. There are a lot of great bloggers out there. But for every good blogger you see, there are 2-3 girls who think they can do the same. I once got asked 'where do I sign up to be a fashion blogger' because most girls think it's all fun and games because of the goodies and freebies. Not all of them understand the effort that goes into into making a blog work. It's not only about wearing nice clothes and clicking pictures and then sending the link to your friends to ask them to comment on your pictures, it's a lot more than that.
Q: Let's conclude off with a few favorites.
Colour: Purple
Movie: The dark knight
TV Show: Too many!
Fashion Designer: Roberto Cavalli
Connect with Roxanne D'souza: Blog, BlogAdda, Twitter, Facebook, Google+, Pinterest, Instagram.
Thank You Roxanne for a great interview!
For all those who missed #WIN14, you can relive it through the photos!
Bloggers, we hope you enjoyed reading this Interview with Roxanne where she tells us everything about her journey as a fashion blogger, about what appeals to her 
We look forward to your feedback about this interview.