A blogger who writes straight from the heart! Someone whose writing is very philosophical and self-reflexive but at the same time sprinkled with humour. Her posts are very matured and leave every reader with thoughts to ponder about. She states that writing is her love while acting remains an affair. A person who is willing to learn everywhere she goes! She takes pleasure in the small things life has to offer! (In an Ozzie accent) Here's presenting to you an honest and fun interview with Prerna G. Manian about her blogging journey, childhood memories and a lot more!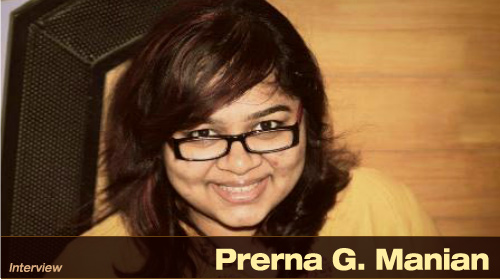 Q: What inspired you to start a blog? We would love to know your blogging story right from the start!
A: I used to be crazy about stationery, those lovely looking diaries and I always looked forward to New year when some company or other used to give diaries, and I just wanted to smell the crisp newly printed pages and start writing in them. But then, I discovered,pen, in its literal form, was not my friend. I had zero patience to write and maintain a proper handwriting. My mother told me to switch to Word, and then I Google-ed online diary etc. and I found the whole idea of a blog. It eventually started out as a Personal Frustration Zone, but now I guess it is a mix of both the personal and the peripheral.
Q: Which is your favourite genre when it comes to blogging?
A: Philosophical and self-reflexive, when it is personal yet people can connect to it. Social issues are not my favourite (even though I write a lot on social issues), because there is a certain kind of detachment when you talk of society as a whole until and unless you are the one who is being impacted directly. When you talk of life in general and try to connect small things to a larger horizon, things become interesting. And I always like a tinge of humour in existential thoughts. I can't go all Victor Frankl on people 😛
Q: Have you tried your hand at writing fiction? Give us a sneak peek into your thoughts about writing fiction?
A: Oh yes, I actually started writing stories when I was 5 yr old. And poems since I, don't know, since I could rhyme? 😛 I used to love mystery and I wrote highly plagiarized Enid Blyton stuff myself, but then gradually I started writing more poems. Honestly, I am a person whose mind wavers a lot, I am a very fickle minded person. I don't think I have enough patience to write a novel. I would love to publish an anthology of poems, and I want to revive the genre of poem in the modern audience's pallet. We have such small attention spans nowadays, that everyone wants to read something small but know a lot. Poems are the best way to do that; they don't say much to convey a lot, right? But poem has this elitist tinge to it in India, not everyone says they are reading a Pablo Neruda or Edgar Allan Poe, you will get a 'say whaa' face if you say that.
Q: You blog extremely well and your posts are very matured for your age! How do you react to compliments like these?
A: Hahaha, I have certain strong symptoms of inferiority complex. When people say that, I feel I do not deserve such comments because there are so many great people out there, who write regularly, extensively and beautifully. I am in the learning process, and if I get accolades now I can only look forward to better times.
Q: Tell us about blogs you religiously follow and what is it about each of these blogs that you absolutely love?
A: I am not much of a reader, seriously. But there are few blogs I follow and make sure I read them properly, word by word. One is A Beer for the Shower, I love the way they blog with illustrations, I can never do that. Same with The Vigil Idiot, I love the reviews through illustrations. Then there is Kavi Arasu's blog, which after WIN, you do not need an introduction to and a reason for liking! I also like Photo-blogs, and art illustrations. And you can see one commonality in all of them- I cannot do what they do, and hence there is a certain kind of love and reverence for their skills.
Q: Since you approach life with such a zest, what are five things that feature on your bucket list?
A: I am a very self-contradictory person. My writings make you think you will meet this happy-go-lucky person, which I was, but now age has given me responsibilities ( I sound as if I am 80 but yes) and I have become a really weird person. But everyone has a bucket list:
 Going to Australia. I don't know, I have this crazy love for accents and I love Ozzie Accent 😛
 Acting in a Broadway show. Acting is like an affair while I love writing.
 I want to go to all the places I have read about.
 I want to be famous in whatever I become. Preferably a great script-writer or playwright. Too much, I know.
 Taking my parents on a world tour.
Q: What according to you is the most gratifying aspect of blogging?
A: It is cathartic, it gives you a sense of purpose in life and it makes you go back in time and reflect. You find changes in your perspective, and that helps you learn from your own mistakes or good deeds of the past.
The whole fact that blogging is something unique,makes a person feels that he/she is indulging in something which is not hackneyed.
Q: What are three important pieces of advice that you will give people who aim at starting a blog soon?
 Blogging is considered very "cool". Most of my acquaintances started writing because they saw me or other regular blogger-friends of mine writing it. They did not continue after 2-3 posts. So

if you want to write a blog, write because YOU do, not because it is supposedly very cool or someone else is doing it

.
 Do not feel embarrassed if you are going public with your frustration. Some people actually find that cathartic. They feel they have people around them suffering the same. So do not write what you think will be socially and publicly acceptable and politically correct. The latter is a paradox anyway.
I never chose a genre for my blog. Some people have a photo-blog, or a fashion blog or a cooking blog. If you have some specialized talent, use a blog thoroughly. But then if you do not specialize in anything but writing, do not let that hinder you.
Q: You tend to find happiness in the small things in life. Tell us 5 things in the past week that left you with a smile.
When a friend called me a thoughtful person.
When my friend suddenly surprised me with free food without any reason.
When my parents said they are blessed to have me. it is not a small thing but it is not everyday!
When a kid of a worker in my college waved his hands and said Hi Prerna di. I didn't know he knew my name, and I felt so happy.
When a senior talked to me for hours and called me a very special person. It was special indeed.
Q: It has only been a year since you have shifted to New Delhi as a student of the Stephens College? How has the change been treating you?
A: It has been riveting. I am living on my own, and that has made me a little more responsible. I am learning how to live life in its actual term, and this college has so much to offer. Everyone has equal potential and you don't have a sense of competition but a sense of harmonious learning and exchange, which is something new to me. You meet different kind of people and you learn and unlearn things. Though a sense of snobbery is always attached with Stephanians, the thing is we live a very modest life here.
Q: Do you ever face a bloggers' block? If yes, what are the techniques you use to come out and get back to writing?
A: Don't I face it!!! My bloggers' block is when I have so much to say but no words. What I do is write a Haiku, and then build on it. It works! See, I am a staunch poetry enthusiast, I use it for recovering from the worst condition a blogger can face.
Q: You have acted in a few plays. Dramas interest you! Have you ever thought of taking theatre seriously as a career option?
A: Yes, I am planning to do Theatre and Film Studies. I chose English to hone my writing and reading skills. Drama is something which gives writing life of its own. Writing is magical, drama is ethereal.
Q: What is your favourite genre when it comes to reading books and why?
A: I love Thrillers and Romantic Comedies. I love reading plays too. I also like Coming-of-age fiction, if uniquely written.
Q: You spent your childhood in Korba, Chattisgarh. Tell us you most favourite childhood memory from there.
A: I love the fact you chose to mention my birthplace. My most favourite childhood memory is when I got 10 writing and speaking awards in Class 4. That was too much to take. And I will never forget the small Ganesh Chaturti and Holi events our small colony of friends organised. Ah, I will write a post on this. 😀
Q: What is your favourite and most inspiring quote in life?
A: Elsa Maxwell: Laugh at yourself, before anyone else can.
Connect with Prerna G. Manian: Blog, BlogAdda, Twitter, Facebook.
Thank You Prerna for a great interview!
Bloggers, we hope you enjoyed reading this interview with our blogger friend Prerna G. Manian where she tells us how she started blogging and what is it about blogging that she loves the most.
We look forward to your feedback about this interview.