We would like to thank you for the overwhelming response that we have received for our P.A.U.S. Activity. We believe each one of you has ended up interacting with and making new blogger friends as a result of this activity. That was the very purpose behind starting the whole tagging game!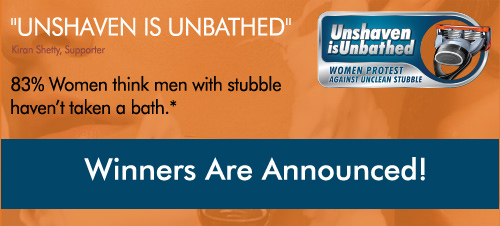 This activity was judged by our blogger friend, Shail Raghuvanshi!
Shail Raghuvanshi is a freelance journalist, content writer, editor, book reviewer and poet. She has 20 years of writing experience in newspaper, magazine, radio, television and websites. Many of her articles, short stories and poems have been published in reputed journals and magazines. She runs a blog for writers called Write Space and blogs at her personal blog Muse n' Motivation
We would take this opportunity to thank her for giving us her time! A huge activity, many winners and so here's what she has to say!
I had a great time reading the posts for the P.A.U.S. competition organised by BlogAdda.com. Splendidly thought of. Not easy though to filter through the innumerable creative posts! Each post had a story to tell, an emotion to express, a thought to convey and finally the common message to get across to one and all – that of no unclean stubble on men. What was interesting was the fact that many men participated and shared the sentiment about the Protest Against Unclean Stubble. Whether the prizes, the fun of taking part in a contest or a genuine urge to express their sentiments edged them on is of course a debatable issue!
Coming to the winners, there were many participants who stood out with their multiple posts. Unfortunately, only the best among the multiple lots could be chosen. Their creativity is indeed appreciated.
Anwesha Ray for her post Of Butter-yellow sunflowers, a clean shave and other things wins the iPhone 5S. Her post stands out for its simplicity and the joy that it portrays to express the message of the benefits of a face without stubble. Emotion is made use of well in this post without going overboard. Congratulations!
Vaisakhi Mishra for her post The Three Musketeers  wins a Google Nexus 5. Her post for its eloquent verse and creative style in expressing the simple message of the disadvantages of unclean stubble. The poem made the characters and their conflict come alive. Well done!
Arvind Passey for his post Poets Write, Stubbles Don't wins a Google Nexus 5. His post for its creativity and graceful manner in which it conveys the message. The writer has very deftly said a big 'No' to stubble. Very good work!
Meera for her post The Shave  wins an iPad Mini 16 GB Wi-Fi. It very ingeniously portrays the sentiment between two family members and before one realizes it, the message of dashing looks without stubble is revealed. Nicely written!
Bem for her post His Clean Shaven Looks Bowled Me Over  wins an iPad Mini 16 GB Wi-Fi. This post uses humour and cinema to its advantage and comes up with a smart portrayal of why stubble will just not do. Appearances can be deceptive, we learn from this post. Good one!
Heena Shah-Dhedhi for her post  Conversation wins a Flipkart Voucher worth Rs. 5000. It stands out for its direct message to the readers. What works for men should work for women too and in this frank attitude lies the answer. Well written!
Nisha for her post What Women Want wins a Flipkart Voucher worth Rs. 5000. This one for its smooth portrayal in verse of what women really want of men. Its vivid description is nice!
Dr. Roshan Radhakrishnan for his post The Look Of A Doctor wins a Flipkart Voucher worth Rs. 5000. This one for its natural and realistic description of how unclean stubble can hamper interactions with people. Nice!
Sweety Pateliya for her post The Stubble Sansani wins a Flipkart Voucher worth Rs. 5000. This one for its humorous portrayal of how unclean stubble can irritate even a child. Well thought of!
Khushboo Motihar for her post Choices wins a Flipkart Voucher worth Rs. 5000. This one for its dramatic appeal, how a simple act as keeping a stubble can turn one's life upside down leading to an unimaginable denouement. Good imagination!
Someone Is Special wins the Flipkart voucher worth Rs. 5000 for being the one with the highest reward points at the end of the month long campaign!
The daily goodies have been shipped to the respective winners!
Also, all the valid entries will receive BookMyShow Vouchers worth Rs. 200 each via email within a month's time.
BlogAdda would like to wish all the awesome winners for the P.A.U.S. Activity a hearty Congratulations! Thank You for your participation.
We request you to mail us your details at contact@blogadda.com for us to ship the prizes. The prizes would be shipped in the month of March.
Attend India's biggest blogging conference and awards ceremony, WIN '14! Hear inspirational speakers, learn and go home a better blogger! We assure you a fun and eventful day! Register now @ http://win.blogadda.com/register.