Everything a blogger wants, rolled into a single event is what we'd say WIN '14 is!
We're here with five reasons for you to not give WIN 2014 a miss!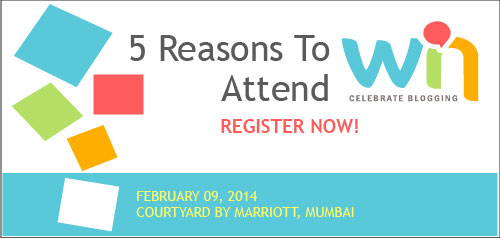 1. You will end up a better blogger!
We assure you that this event will sure mature you as a blogger. Choosing the right content to be put on your blog, the way your blog looks to a visitor, getting the words to suit the emotions right is all important. Every person who blogs has to be an avid storyteller. You have to be able to engage an audience. That is exactly what you will learn more about when engaging speakers like Kavi Arasu, Anil P(Windyskies), tell you more about the art of storytelling through blogs.
2. An opportunity to meet fellow bloggers in person!
You write a brilliant article and your comments section is overflowing with compliments. Wouldn't you like to meet everyone who complimented your post in person? You read an amazing post, absolutely agree with every point made and love the way it is penned. So many times, fellow bloggers inspire you! Here's your chance to meet, interact with these bloggers and get to know them better!
3. Narrowed gap between blogs and brands!
At WIN 2014, we have Anaggh Desai and Manu Prasad to talk to you about the current relationship blogs and brands share! They tell you why brands today are on the lookout for good bloggers and on the other hand how the association is extremely beneficial for the bloggers as well. We also have Lakshmipathy Bhat tell us on how to use Social Media effectively for your blogs. As a blogger what you go home with is a win-win situation!
4. The joy of celebrating your passion – Blogging!
For the first time in India, an event that is dedicated to the love of blogging for an entire day. The first offline awards for Indian bloggers where the best blogs from over 16 categories would be recognized. Indeed a big day for anyone who is even remotely associated with the growing and strong Indian blogosphere.
5. Goody Bags!
An amazing goody bag with vouchers & gifts from leading brands to take home along with a whole new trunk of awesome memories!
These are just some of the reasons. There are many more which you will know once you attend the event!
Time and seats wait for none. Register Now!