Give your child the best Birthday Gift ever, play Santa for a lifetime!
He asked for a toy aeroplane this birthday, but will it take him to Stanford for higher education? She wishes for a princess doll, but have you done enough to ensure she looks like one on her wedding day? Your child may be 6 now, but time will drift by and he/she will be 16 soon! So, how do you fulfill their wish-lists that grow as quickly as them?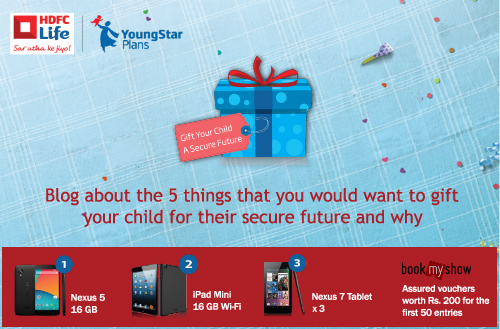 Parents play the role of Santa Claus in the lives of their children throughout.
Well, it begins from the gift of life and goes up to looking after all their needs. Anything affecting your child directly makes a difference to you. You always wish and hope that they lead a comfortable life. Sometimes though, these acts of love take a toll when parents have to give in to the tantrums thrown by their little ones and give them what they demand. Every birthday has to be made special! They deserve it and you love doing it for them! With prayers and good wishes there's always something you wish to give them that would make sure they lead a comfortable, hassle-free life.
As parents, nothing worries you more than your child's growth and future. There are innumerable wishes you make for the well being of your child, & always try that each gift you give is better than the one you gave before. Well, it's that time of the year when gifting is already on your mind! And here's an opportunity for you to share how you could play Santa to your child for a lifetime!!! HDFC Life is collecting a 1001 Gifting ideas for children & you can add to the bucket by writing in.
Simply blog about 5 special gifts you want to gift your child with for a secure future. There may be somethings you have always wished to gift your child in order to be sure about their future. Write about them in your blog posts and win amazing prizes for the same! Your gifts could be anything from good values to a good education policy for your child!
Write what comes to your heart first because we believe the best gifts are the ones given straight from the heart.
The prizes you can win for this activity are as follows:
1st Prize – Google Nexus 5
2nd Prize – iPad Mini 16 GB Wi-Fi
3rd Prize – 3 Google Nexus 7 Tablets
First 50 entries will win early bird vouchers from BookMyShow worth Rs. 200 each.
This post is a part of the 1001 Gifts Activity by HDFC Life in association with BlogAdda
Looking forward to your entries 🙂
You can send in posts for this activity till December 29, 2013.
We would like to thank all the bloggers for their loving post and participation! This activity is now closed.