What are the topics that absolutely interest you? Topics that you can talk about for hours together with almost anyone.
Is it food that you can discuss or are you a book lover? You just can't stop talking about movies or are you a shopaholic and is always up to date with the latest trends in fashion? Politics in India interests you deeply and you love witnessing debates about the same or you're someone who is just in love with places and is always looking forward to travel? It could also be just a certain incident or idea that you want to discuss and learn more about.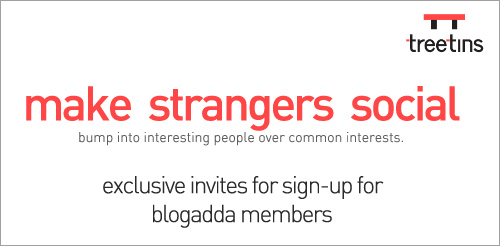 Infinite interesting topics! Innumerable number of people who have similar interests like you! Imagine a chance of getting to know and converse with them all!
Treetins is here to try and make strangers social!
Treetins is a new website, a place where you can bump into strangers sharing similar interests!
We at BlogAdda bring you an exclusive opportunity! Treetins would be open only for members from our Adda for an exclusive sneak peek before the world can access Treetins.
For this activity the short listed bloggers will have to visit Treetins and share at least three things that interest you.
You want to speak through pictures? Treetins allows you to do that as well! Videos, Pictures, Links, Content – You can share it all on Treetins. You can express anything from your blogposts to video links that you find amazing! Strangers who find your posts interesting will bump into you and converse!
You can also check out the expressions posted by others at Treetins and if they interest you, bump into them to interact with them.
Sounds fun? We've got more…
1 lucky winner whose post gets maximum bumps will get a Google Nexus 7 Tablet.
5 next bloggers will win Flipkart Vouchers worth Rs. 1000 each.
50 shortlisted bloggers who complete the activity first will win BookMyShow Vouchers worth Rs. 400 each.
We have limited invites for this activity. Please register Now!