A fun-loving girl  who is a voracious reader and loves to blog. Even the fiction she writes seems so close to reality! Her writings are a reflection of what you actually see in the society. Poems, stories or just a post on something she likes, she writes everything magnificently! Romance being her favourite genre, it takes up most of the space on her blog. Diplomacy is just not her, what she feels is what she writes! A friendly and outgoing girl who is also extremely emotional. Presenting to you, Soumya Prasad a brilliant blogger who breathes romance, in an honest interview at your Adda.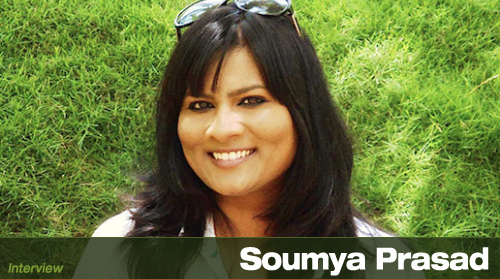 Q You have been blogging from a long time now. How did the blogging journey happen? Tell us your blog story from the start.
A: My blogging journey started with a broken heart. I had just got out of a long relationship and needed a distraction. My thoughts then turned into poems and quotes. When I came across a few blogs, I thought maybe I should give it a shot too. After a couple of posts, I felt that this was the best way to channelize the feelings in me. Soon the blog began gaining popularity and it motivated me. Since then my blog has been a part of me throughout. A feeling oozes out the words from me or a contrived prompt brings out the creativity in me. Writing then became a way of life. I strongly believe in love and honesty. And that's what my blog has been about throughout.
Q You come across as a very bold person through your writing. Are you like that in real life too? Have there been any situations that you had to face due to the same?
A: My blog is a reflection of me and I am just the way I show myself. Bold seems to be too strong a word here. All I do is write the truth and my genuine opinions about it. Yes, I do write about topics that not many people would want to talk about but it doesn't mean that it does not exist. I do write about people too. And the truth about them that affects me. If it doesn't affect me, why should I care? If this is called being bold, then well I am.
I have had a lot of people calling me up, asking me why am I talking bad about them on my blog. I do not mention names on my blog, so it is mostly by assumption, or by guilt. I chose to ignore such issues, as I know what I wrote and why.
Q You have got married earlier this year. Tell us how your life has changed post marriage.
A: No major changes, apart from the place I'm living in. I was in a relationship for more than a year with my husband (then boyfriend) before we got married, so I knew the nitty gritty aspects of him. Just like my parents, my in-laws are wonderful people and they let me be the way I am. They love and support my writing. If I had to put a finger on it and point out a change, it would be that it has become difficult to write poignant posts. The happiness in me does not let me easily get into a melancholic state of mind to pen something. Poignancy has been a wonderful topic for many of my best works till date. It's real and rustic. I miss that at times. I'm trying to separate a section of my mind, with this emotion, just to bring out posts. Apart from these, life remains just the same.
Q Do you make it a point to interact with your readers?
A: Absolutely. Every comment and mail gets a reply from me. It's really important to interact with the readers as you get to know their expectations from you. These expectations then become your motivation to write. Today I have made some great friends on the blogosphere. Why, some of them even attended my wedding.
With good there always comes bad. Some people post crass comments and at times the people whom I know and don't care about post unwanted comments. These I choose to ignore.
Q How, would you, in general rate the quality of Indian blogs? Share your favourite five blogs with us.
A: My initial opinion of Indian blogs was same as my opinion about Indian authors. For a person who grew up reading Danielle Steel and Sidney Sheldon, Indian writing was not up to the mark. Chetan Bhagat changed the trend and Indian writing was finally considered seriously. Same with the blogs. Today when I look at Indian blogs and their quality I feel proud to be a part of them. I'm sure there are a lot of authors to be out there. Yes, there sure is a scope for improvement in regards to the plethora of topics present. I would give a 7 on 10 for the quality of Indian blogs today.
Asking me to share only five favorite blogs feels like blasphemy. But let me try.
Woman and a Quarter – Judy Balan
99.9% Transparent – Akila Venkat
Malignant humor in my head – Sriramana Muliya
The blunt blog – Chintan Gupta
Everlasting words – Momina
Q You were a naughty child. Tell us some incidents or pranks you remember from the time you were schooling in Nirmala Rani High School.
A: Yes I sure was a naughty child, but I was a bright student too. So, thankfully my pranks were forgiven instantly. I was a member of the 'Scouts and Guides' during high school and most of the pranks happened there.
I remember once untying the ropes of a neighboring tent while people were sleeping inside it. They did not realize it until the next day.
I also once stalked my librarian until she gave me Shakespearean classics to read. Those books were only reserved for the "elders", but since I had exhausted all other books by then she had to give in. Nobody knows about it till date. It was our secret.
Q You absolutely love writing about love and romance? How did this whole interest come up and grow?
A: Like I said before, blogging started for me with a broken heart. The most prevalent emotion for me then was love. While recuperating from it, I realized that there are many shades to love. I wanted to explore them. Since I was at a very vulnerable phase then, it was easy for me to get into any mind set and write. They turned out to be good.
I'm a hard core romantic and firmly believe that love makes the world go round. This emotion rules my world and that's all I know. It was easy for people to identify with my writing too as everyone in the world has experienced love at least once. And love is the most integral part of any story. So I just stuck to what I was good at. And no, I don't believe in fairy tale romance. I'm a realist. I write genuine love stories and poems, nothing like dancing in the sky or staring at the moon. Stories that could happen to anyone. That remains the USP of my blog.
Q We know writing romance fiction is very challenging. So, when you write fiction, do you pick up instances and characters from real life experience?
A: Love stories are known to have a happy ending. It's a mythical cliché. The challenge lies in keeping it different yet real. Every story has to be different, every character should be strong. It is a tough genre, but if you get it right, it is awesome.
Most of the instances are about what happened to me or the people I know. I make my characters react the way I would if I was in such a situation. There is a lot of fiction present in real life and that is what I look for. I get a tiny gist and then I work on it to form an entire story or a poem.
Q On the professional front, you are a techie at IBM. You don't write anything about that on your blog. Is it a conscious decision taken by you?
A: I being a techie should not matter at all when it comes to my writing. It is easy to write about work life politics and other work related things. But they somehow don't appeal to me. It is not a conscious decision, but somehow I do not feel the need to talk about it on my blog. Nor do I talk about my writing at work. Baring a couple of them, no other colleague of mine is aware that I own a blog. It's my personal space and I want it to be that way.
I have mentioned my achievements at work in a couple of posts, because it was a happy phase in my life and I wanted to write about it. My writings are based on emotions and not on topics. I have had love stories at my work place and they sure have made their way into my blog.
Q Have you ever thought of taking up writing as a career? Do you aim at writing a book sometime soon in your life?
A: Writing is definitely on my mind for an alternate career as I do not plan to continue in IT once I enter motherhood. This is a good 3-4 years away though. Writing is a passion and it gives me a free will, so I might move into it much earlier too. Some of my articles have already been published by a few online magazines, so I would want to start looking at the bigger picture soon.
I just narrowed down a concept for a book. I shall start working on it soon. No prizes in guessing that it would be a love story.
Q You are quite a veteran when it comes to blogging 🙂 What would your advise be to all those who want to start blogging?
A: A veteran already? It just feels like yesterday when I wrote my first post. Like they say, time flies when you are doing something you love.
My advice to starters would be:
1. Keep it simple and honest.
2. Don't make up stuff that you might regret later.
3. Be prepared to face the consequences if people complain.
4. Write for yourself first, then for others.
5. Do not expect anything in return.
6. Later, if you are good at something, then never do it for free.
Q Tell us three things that make you very happy and three things that can piss you off instantly.
A: Three things that make me happy:
1. Rhymed poetry
2. Beaches
3. Cooking
Three things that piss me off instantly:
1. Sycophants
2. Bad grammar/vocabulary
3. Plagiarism
Q What is the future of blogging in India, according to you?
A: The future of Indian blogging is in good hands, to say the least. There are a lot of budding writers out there. Hopefully new arenas will open up for these bloggers in terms of taking up writing as a career. This would inspire more people to take up blogging. Writers should not be worried about their pay scale, as not many people dare to follow their passions instead of choosing stability.
Q Do you ever face the bloggers' block? If yes, what are the techniques you use to overcome the block?
A: Oh yes I do! That is why I rely on a few blogging communities to give me a prompt to work on. In case of a block, the following techniques have worked for me.
1. Read a lot. You never know which word or which character can inspire you to write something.
2. Visit other blogs. Maybe some post there can trigger something. At least you can debate about some topic you see there. But please give credit to the owner.
3. Go through old memoranda. Nostalgia is the best medicine for creative constipation.
4. Find a painting or a picture and to write a story or a poem about how you interpret it.
5. Safest bet: Get someone to write a guest post for you.
Q  Let's conclude off with a few favourites.
Colour: Black
Movie: The Pursuit of Happyness
Author: Danielle Steel and Jeffery Archer
TV Show: Masterchef Australia
Your Zodiac Sign: It's in my blog's name. Leo.
Connect with Soumya: Blog, BlogAdda, Facebook, Twitter, Google+.
Thank You Soumya for this wonderful interview! Dear Bloggers we hope you liked this interview with Soumya Prasad where she talks about her life and complete blogging journey. Do give us your valuable feedback! 🙂