The other day while walking down the street, we met an old man walking with his grandchild. What we saw after that was an astonishing sight.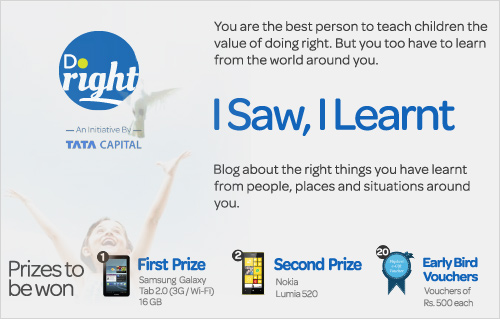 We saw that the old man picks up the waste paper thrown by  a couple walking ahead of them and throws it in the dustbin. The grandson claps at the deed of his grandfather and continues walking. What did we learn from this? We learnt that the grandfather was setting an example for his grandson by telling him not to throw waste around and keep your surroundings clean.
As an individual or as a parent, you are the best person to teach children the value of doing right.
BlogAdda and Tata Capital presents to you
I Saw, I Learnt.
Blog about the right things that you have learnt from people, places and situations around you.
There are special prizes to be won for this activity.
First Prize:

Galaxy Tab 2.0 (3G +WiFi) 16 Gb. 

Second Prize: Nokia Lumia 520.
20 Early Bird vouchers worth Rs 500.
Let us not waste any more time and #CelebrateBlogging by blogging our learnings from what we have.
Do not forget to include this code in every post to make it a part of this activity.
I am sharing what 'I Saw and I Learnt' at BlogAdda.com in association with DoRight.in.
Last date for this activity is: July 23. 2013.