Inviting you to the India's first Non-Fiction Book Festival!
An event platform that features a wide range of talks, presentations, readings, debates and interactive sessions held by the most prestigious and award winning Non-Fiction Indian authors and writers.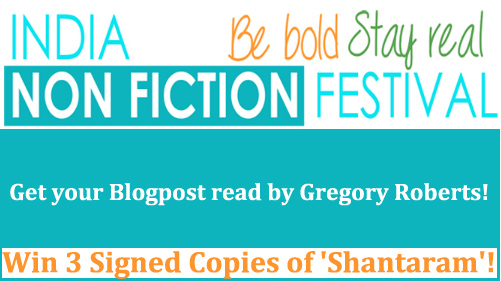 We present an opportunity for all writers, book lovers and readers from different genres in the Blogosphere to be a part of this festival. Bloggers will get a chance to hear firsthand from the renowned, best-selling authors.
Know more about the festival @ India Non Fiction Festival
We also present to you a contest that will make your world of imagination revolve around everything Non-fictional you can think of.
We believe, that to be real one should possess qualities like courage, audacity and intrepidity in all spheres of life.
The theme of our contest is "Be Bold Stay Real"
Describe and Blog on how "Be Bold Stay Real" concept is evident in the world around you. The world of cinema, acting, entrepreneurship, management, politics, health, society, business, etc.
The contest will be judged by Gregory Roberts, the acclaimed author of 'Shantaram' and Kumaar Bagrodia.   
The winners will receive the signed copy of 'Shantaram' by Gregory Roberts.
Kindly include this code in your post:
I am writing on Be Bold Stay Real at BlogAdda
You have a week to pen down your opinions and submit your entry. The last date for this contest is 15th June, 2013. 
Are you one of those emerging gems in the sphere of blogging?
Start writing now and share your links below. 
Update:
We had asked our bloggers to write how 'Be Bold Stay Real' the theme works for them in real life. Amazing posts came our way for the same, each one with their own take on the theme.
We're here with good news! It is time to make your Manic Mondays a little less stressful. The winners for the Be Bold Stay Real contest are as follows:
Team BlogAdda wishes all the proud winners a hearty Congratulations!