"Absolute power does not corrupt absolutely,  absolute power attracts the corruptible."
― Frank Herbert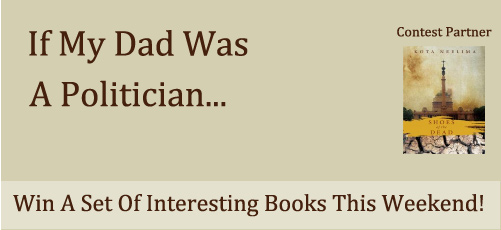 Which areas can you think of where politics has not created a chaos in the life of the poor citizens? Can you think of just one person who deserves to own the powers to run our country honestly? No one can really answer these questions.
Presenting to you a weekend contest at BlogAdda.
The Theme:
If My Dad Was A Politician…
Write a blog post on how your life would be if your Dad was a politician. Share your perspective of looking at various issues pertaining to the country and dealing with your fellow Indians. The ball lies in your court.  You can choose to write the negative side of the politics or highlight the ways in which you would like your Dad to be working for the upliftment of the country.
Three best entries will win Book Hampers from Rupa Publications. 
Kindly include this code in your post:
This post is written for the Weekend Contest in association with Shoes of The Dead at BlogAdda.com.
The Last day for submitting your posts is 19th May, 2013. 
Submit your blogpost links in the comments below.