Do you crave Exciting, Adventurous and Thrilling Road Trips?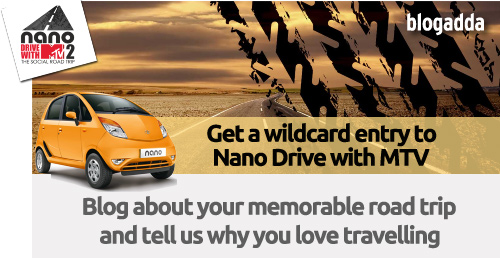 If you do… hold your breath, sit back b'coz here we go with the Sensational Second Season of Nano drive.
After the incredible success of the first season, Nano Drive with MTV brings an ultimate social Road trip with Double the fun, double the adventure, packed with experiences that will get your pulse racing!
BlogAdda presents an exclusive Wildcard Entry for 3 Bloggers to be among the 24 contestants who will be a part of this drive.
To get started on this incredible journey, write about your favourite road trip; what made it memorable and why you love travelling. Make sure your entries are fun, quirky and showcase the vagabond in you!
Kindly include this code to make your entry eligible for the contest.
Get a Wildcard entry to Nano Drive with MTV at BlogAdda.com
Out of the entries that we receive, three bloggers will get a chance to be among the 24 shortlisted ones.
One outstanding entry will be shortlisted and announced, by MTV, on each of the following 3 dates:
13/05/2013
17/05/2013
21/05/2013
These 3 qualifying bloggers will then have to submit a video entry* to be an eligible participant among the 24 shortlisted by MTV.
The selected 24 will then be featured on http://drive.mtvindia.com for the next round after which the final 12 would be selected for the Nano drive.
We would want you to be selected for the final 12. As BlogAdda members, you'll enjoy our complete support to help you become a part of the pool of Final 12 contestants who will experience 21 days of non stop fun, adventure, discovering new places and cultures as you travel across the length and breadth of the country!
Don't Miss this once-in-a-lifetime opportunity! Remember, the quicker you write, the more the votes you stand to get, which would lead you in the final 12. For more details on this, visit http://drive.mtvindia.com