Today we are in conversation with one of the top debut authors of India – Upendra Namburi. An engineer by accident and an MBA by coincidence, Upendra finds himself in the dynamic world of banking and finance. In an attempt to break the monotony of classrooms and lectures during his college years, he developed a strong inclination towards writing. Over time the love affair blossomed. He now maintains several blogs and has contributed articles to Indian and International publications. Let us have an interesting conversation with him.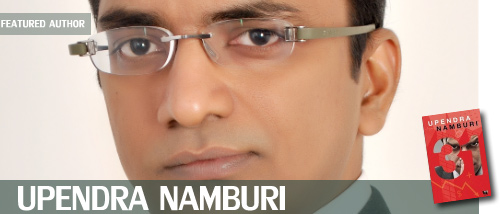 Q: Tell us something about your book and what should readers expect from it.
31 is the story of Ravi, a regional head at a multinational Bank. It commences on the 1st day of March, when he seems set for a promotion or possibly even an international assignment.
However the next 31 days will change his life forever…
The collapse in the bank's Brazilian subsidiary triggers an upheaval within the bank as thousands are laid off. A restructuring is advocated in the Indian operations and to make matters worse, it becomes clear that a firing list will be released on 31st March which could cull a large portion of the Indian employee base.
In such a state of cataclysm, battle lines are drawn, bizarre alliances of convenience are formed and conspiracies are hatched as employees struggle to ensure their name is not on the dreaded list. Ravi sees his friendships dissolving, his help lines disappearing and his reputation withering. He finds himself in a quagmire of deceit, lies and subterfuge.
In a perverted twist of fate, his wife Savitha discovers that her job is also on the line! A series of personal and financial debacles amidst social ignominy pushes Ravi to the verge of insanity.
'31′ is a fast paced read with several twists and turns as the reader traverses through those 31 insane days to see if Ravi will continue having a job!
Q If you are told that you are to live the life of one character from your book, who would it be and why?
I would like to say that of the protagonist Ravi Shastry. He is quite the fighter and toils and struggles through those tumultuous 31 days. He is a 'real' guy who has his conflicts with his ambitions and struggles with his ethical compass as well, but always holds back keeping his family in mind. He has to keep it together.
I am also intrigued by Maithili, Ravi's ex and colleague at the bank. I've had several discussions with readers on her character as they struggle to 'compartmentalize' her character within good and bad. She manifests everything that is grey in our lives today.
Q: Who/ What is that person/instance in your life without whom/ which this book wouldn't have happened? 
That would without doubt be my wife Nirupama. She has tolerated my insane writing patterns which has eaten into a tremendous amount of family time. She also pushed me to ensure that it got published, else I may have just moved onto the next book.
 Q: What do you like to indulge in when you're not writing?
I'm quite a movie buff and love listening to music, mostly 80's and 90's….but a wide spectrum, including rock, pop, ghazals! But nowadays, my one year old son takes up the prime spot over much else.
 Q: What have you planned for your next book? Share your thoughts.
The next books are going to be titled '60′ and '8′. They too are going to be traversing stories in some tight timelines as in the case of '31′. They would have semblances of a corporate thriller to them, but push the envelope even further and touch upon passions tipping into manias. They would also touch upon 'greys' in all our personalities and challenge this notion of good and bad. They would definitely be fast paced in modern contemporary Indian settings and possibly written for a more global audience as well when compared to '31′
 Q: Your favorite quote.
Have quite a few…but one that really captures my imagination is one that I've used in '31′
'I get email…therefore I am!' Dilbert
 Q: Share 3 important tips for newbie writers
Stay true to your story and characters
Write a book that you would like to read yourself
Challenge the status quo and push the boundaries